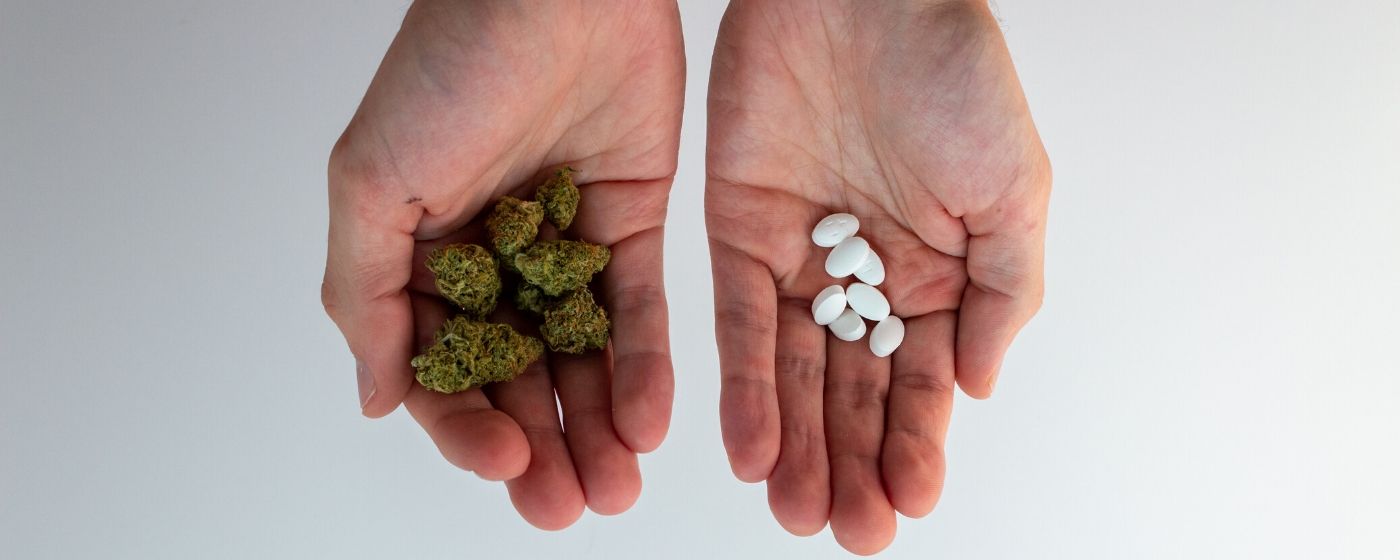 Medical Marijuana vs Zoloft – Which is a Better?
- November 12, 2019
Zoloft!
Those who suffer from depression, panic attacks, anxiety, and OCD symptoms are familiar with this name. Also, those who have loved ones dealing with these conditions.
But, is it safe?
There's scientific evidence that marijuana can help in alleviating symptoms of anxiety, depression, and other mental illnesses. So, can medical cannabis replace Zoloft?
Let's discuss how does medical marijuana and Zoloft work, their side-effects, cannabis legality, and more.
What's Zoloft?
Zoloft (Sertraline) is a popular antidepressant drug approved by the Food and Drug Administration (FDA). It belongs to the Selective Serotonin Reuptake Inhibitors (SSRIs). Other medications in this class are— Prozac (fluoxetine), Paxil (paroxetine), Lexapro (escitalopram). Doctors prefer prescribing SSRIs over other depressants because they have fewer risks.
Zoloft can be used for treating various mental health conditions-
Post-Traumatic Stress Disorder (PTSD)

Depressive disorders

Social Anxiety Disorder

Obsessive-Compulsive Disorder (OCD)
CBD Oral Tincture – 600mg CBD | 30ml Oral Tincture
Enjoy the many benefits of CBD with our great-tasting, all-natural CBD Oral Tincture.
How Does Zoloft Work?
Zoloft is a popular treatment for depression. Past studies also show that the medication is effective for patients with panic disorder. It's usually prescribed by doctors for depression, OCD, anxiety, and PTSD. Many reports that Zoloft is effective in promoting sleep, boosting mood, appetite, and increasing energy levels. But, some say that it helps them reduce anxiety and panic attacks.
Zoloft and other SSRIs increase serotonin levels in the brain. Serotonin is a neurotransmitter responsible for transferring signals between cells of the brain for various functions, such as controlling mood. Increasing serotonin means positive emotions, making the consumer feel good.
A 2009 research shows that Zoloft dosage of 50-175 mg of Zoloft per day can help in reducing panic attacks in terms of severity and frequency. It's as effective as Cognitive Behavioral Therapy (CBT), which is focused on understanding how the thought process works and replacing the negative thoughts with positive ones.
Major Side-Effects of Zoloft
Since Zoloft works directly with the brain, learning the side-effects associated with this antidepressant is important. However, Zoloft effects may vary from patient to patient.
Some of the common risks associated with it are-
Nausea

Dry mouth

Sleep problems

Diarrhea

Nervousness

Dizziness

Headaches

Drowsiness
Additionally, Zoloft use can lead to sexual problems including reduced sexual desire. Medical studies have found that Erectile Dysfunction (ED) occurs in about 25% of the men taking an SSRI.
If Zoloft use interferes with your sex life, you can consider Mayo Clinic's advice-
Adjust Zoloft dosage

Replace Zoloft with another antidepressant

Get treatment for sexual dysfunction
However, some people may experience severe side-effects by using Zoloft-
Vomiting

Difficulty breathing

Swelling

Seizures

High heart rate

Irritability & Anxiety
Some people may also experience serotonin syndrome. This happens in very rare cases. It involves producing high levels of serotonin, which is usually associated with combining Zoloft with another medication. Symptoms of serotonin syndrome include—agitation, anxiety, tremors, restlessness, lack of focus, and rapid heart rate.
If you experience any side-effects from Zoloft use, see a professional doctor immediately.
How Does Marijuana Work?
The effects of marijuana in treating depression can be understood by learning how it interacts with the endocannabinoid system (ECS). The endocannabinoid system is a biological system, which is responsible for regulating mood and other functions such as memory, sleep, and appetite.
When you consume marijuana, its cannabinoids bind to the receptors present in the endocannabinoid system. This helps in changing mood, memory and other functions, thus reducing symptoms of anxiety, depression, panic attacks, and various other mental illnesses.
In a marijuana plant, there are more than 100 cannabinoids, which possess amazing medicinal properties.
The two most important cannabinoids are-
THC (tetrahydrocannabinol)- A psychoactive compound responsible for causing high-effects

CBD (cannabidiol)- A non-psychoactive compound, which provides health effects without causing any high-effects.
In 2014, a study for highlighting pain management and other potential benefits of marijuana was published by the Hawaii Journal of Medicine & Public Health. Participants reported a 64% decrease in pain while many also confirmed reducing anxiety and sleep problems.
A recent study published by Scientists at Washington State University found that smoking marijuana can significantly reduce anxiety, depression, and stress. However, it's true for the short-term. If used for long-term treatment, marijuana can worsen the condition, even increase depression over time.
Researchers at McGill University in Montreal found that low doses of THC can accelerate the production of serotonin in the body. Thus, it can be used as an antidepressant.
The University Medical Center Utrecht touted that marijuana is a treatment for depression and other mental health conditions. It was based on a study they conducted in 2013. Researchers found that THC can alter the response to negative images/emotions by activating the ECS in the brain.
Medical Cannabis as an Alternative to Zoloft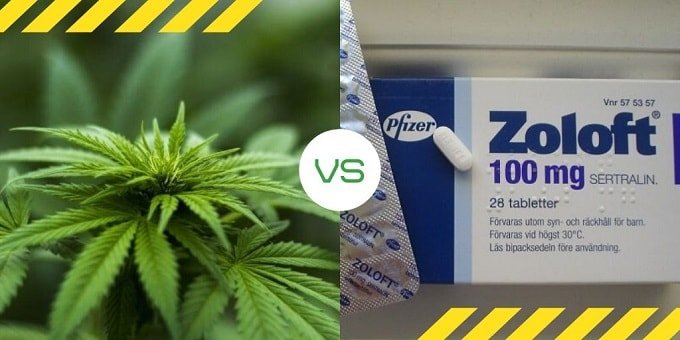 So, can Zoloft be replaced with medical marijuana?
Zoloft & other SSRIs can help in treating anxiety, depression & PTSC, but they can cause a wide range of unpleasant side-effects. These include low libido, headaches, vomiting, and nausea. Contrary to that, marijuana boosts mood and reduces anxiety without causing such risks. Moreover, it has a low potential for addiction and no risks of overdose.
It's necessary to note that marijuana doesn't provide the same effects to everyone. The herb's effects depend on various factors-
Your metabolism

What strain you're consuming

How are you delivering cannabinoids to the body
Thus, before starting marijuana treatment, make sure you discuss your condition with a professional doctor and get professional advice.
Combining Marijuana Treatment With Zoloft
Can I combine Zoloft and other depressants with marijuana?
This is a common question people usually ask.
There has been a lot of research on how antidepressants and marijuana work done on the topic. Several studies show that mixing psychoactive drugs with psychotropic medications may cause adverse effects.
However, physicians say that learning how cannabinoids respond to the patients' mood and behavior is important. Clearly, the more substances a patient uses, it will be difficult to analyze each one's effects. For this reason, physicians usually prescribe one drug first and replace it with another later.
Daniele Piomelli, the Director of the University of California, said, "When physicians prescribe antidepressants or antipsychotic drugs, they are very careful, typically starting with a very low dose and if that's insufficient, increasing the dose slowly until the response is satisfactory."
He said that marijuana comes in a variety of forms, and you can't guarantee if you can experience the same effects you had a few weeks ago.
Cannabis isn't approved by the FDA. That's why you can't count on its consistency. It's necessary to talk to a licensed doctor to seek professional advice for what's right for your condition.
Marijuana Legality in The United States
As per federal regulations, marijuana in any form is illegal. The DEA has listed it as a Schedule 1 Drug along with Heroin and LSD. Still, 33 states have legalized its medical use. Each state has its own rules for purchasing, possessing and consuming medical cannabis.
To access cannabis legally, you need a medical marijuana card signed by a licensed doctor. To get a card, you must be diagnosed by one of the qualifying conditions in your state. Your doctor will examine your condition, and check your medical records to verify if you qualify to access medical marijuana.
How to Get a Medical Marijuana Card Online
With telemedicine services, you can apply for your medical marijuana card within a few minutes. You need not waste your valuable time waiting in the clinic. See a doctor online, and get your MMJ recommendation letter online.
The process involves three simple steps-
Sign up your account

Talk to a licensed doctor through HIPAA-compliant platform

Receive your MMJ recommendation letter in PDF format
Conclusion
Anxiety, depression, PTSD, and OCD are common mental illnesses among Americans. Living with these conditions is quite difficult, and they can cause concentration problems, sleep disorders, relationship problems, etc.
Zoloft is a popular antidepressant medication that can help in alleviating symptoms of these conditions. It belongs to the SSRIs, which work by increasing serotonin levels. SSRIs are effective in promoting sleep, boosting mood, and increasing energy levels.
But, Zoloft and other SSRIs can cause various side-effects. Some of the common ones are—nausea, dry mouth, diarrhea, dizziness, nervousness, headaches, drowsiness, difficulty breathing, seizures, and swelling. Thus, always consult a licensed doctor to discuss your condition, and seek professional help for Zoloft dosage.
However, researchers have found that medical marijuana can also help in treating anxiety, depression, PTSD, and OCD. Unlike Zoloft, it doesn't cause any side-effects. Thus, patients can use cannabis as an alternative to Zoloft.
But, before starting the medical marijuana treatment, it's necessary to seek expert advice from an MMJ doctor for dosage, strains, and consumption methods.
Talk to a licensed medical marijuana doctor to apply for your MMJ recommendation letter today!