Serving Over 50,000 Active Patients
Pricing - Starts from $39.99/year
Transparency - No hidden costs or additional charges. You pay what you see.
Consult Real Doctors - Complete medical evaluation by certified doctors via phone or video call.
Working Hours - Available 7 days a week from 9 AM to 10 PM
Physical Location - Have a physical location in Santa Ana, CA where walk-ins are accepted.
Same Day Approvals - Get approved by certified doctors and receive the PDF of your recommendation via email.
Other Online Services
Pricing - Starts from $99.99/year
Transparency - Price increases at checkout due to additional charges and hidden costs.
No Real Doctors - Offer recommendation even without a medical evaluation by a real doctor.
Working Hours - Available only on weekdays.
Physical Location - Don't have a physical location and operate online only.
Same Day Approvals - Delayed approvals and delivery of recommendation.
Why Get Your California Medical Cannabis Card From Us?
Quick
Complete your consultation for a medical marijuana card from your home in less than 15 minutes.
Convenient
Receive your rec via email instantly and also get the hard copy delivered to your home.
100% Legit
Connect with a team of board-certified cannabis doctors via telemedicine.
24x7 Customer Service
We are always here for you. Phone and live chat support is available 24 hours a day, 365 days a year. Email us, text us, whatever you want to do. We're always happy to talk to you.
No Appointment Needed
No need to wait in line or set an appointment. All visits are available on-demand. We've streamlined our process to keep things efficient. Simply enter your details to reach our online clinic.
HIPAA Compliant
Our online portal is encrypted, secure, and HIPAA compliant. Rest assured that your medical information is always safe.
As Seen On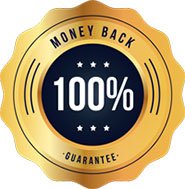 You Are Covered By Our Money Back Guarantee
If your medical marijuana recommendation issued by Online Medical Card is not accepted by the state, simply call us at (888) 988-8420 or email us at [email protected] to obtain a full refund.
Please Note: Refund will not be initiated if the request is placed after the consultation and doctor's approval.
You can verify our doctor's license at the Medical Board of California's website here: www.breeze.ca.gov
License: 3728, G55156

Apply for a Medical Marijuana Card in California
---
Here is how you can apply for an MMJ Card Online through our HIPAA-compliant telemedicine portal. We house a team of board-certified health professionals who are dedicated to helping every individual seeking our help.
1. Pre-Qualification Form
Begin by filling a simple check-in form online.
2. Online Evaluation
Have a face-to-face consultation with our cannabis doctor from your computer or smartphone.
3. Receive Recommendation
After the doctor's evaluation, you'll receive your medical marijuana recommendation through email within minutes. It's as easy as 1-2-3.
Make the Smart Choice!
Benefits of Having a Medical Cannabis Card
---
Guaranteed Savings Across the State
A medical cannabis card allows you to bypass many high state and local taxes. Cardholders can enjoy exemption from sales and use tax on cannabis. Additionally, registered medical patients can shop for cannabis at special discounts from state dispensaries. The total savings can be as high as 35% in some states like California.
Legal Security
Get extra legal protection, especially when driving or flying with medical cannabis. It is afforded only to patients that are approved for medical cannabis use by licensed doctors.
Range of Products
Unlike adult use cannabis, medical marijuana does not have a potency limit. Qualified individuals can purchase high THC and CBD cannabis edibles, tinctures, oils, and other potent cannabis products for their medical condition.
Higher Grow, Purchase, and Carry Limits
The possession limit for medical users is 8 ounces which is 8 times the limit for recreational cannabis. All certified MMJ patients can cultivate up to 100 square feet of medical cannabis for personal use.
Increased Access in Your State and Beyond
There are more than 9000 dispensaries in the US that are open to consumers. Cardholders can access all recreational and medical only dispensaries within their respective states and enjoy more price options, locations, strains, products options, etc.
Age Restriction
In the state of California, recreational cannabis is available only to people above the age of 21. Patients with a valid cannabis card can buy and use cannabis at 18 years, or even younger with a parent as a caregiver.
Verify Your Marijuana Recommendation
Already have an MMJ recommendation? Check whether it is active and valid or not through our 24×7 automated system. It is completely safe and secure. Click on the button below, enter your patient ID, and get started.
$20 Wallet Sized Plastic ID Card
---
By paying an extra fee of $20, you can apply for an additional Medical Plastic Identification Card. It is a smaller and more convenient official MMJ documentation that is also accepted by every California dispensary. It is durable and fits in your wallet like a credit card, and is easy to carry around.
A wallet-sized $20 medical plastic-ID card adds convenience to your life by allowing you to travel, purchase, and carry medical marijuana in California legally.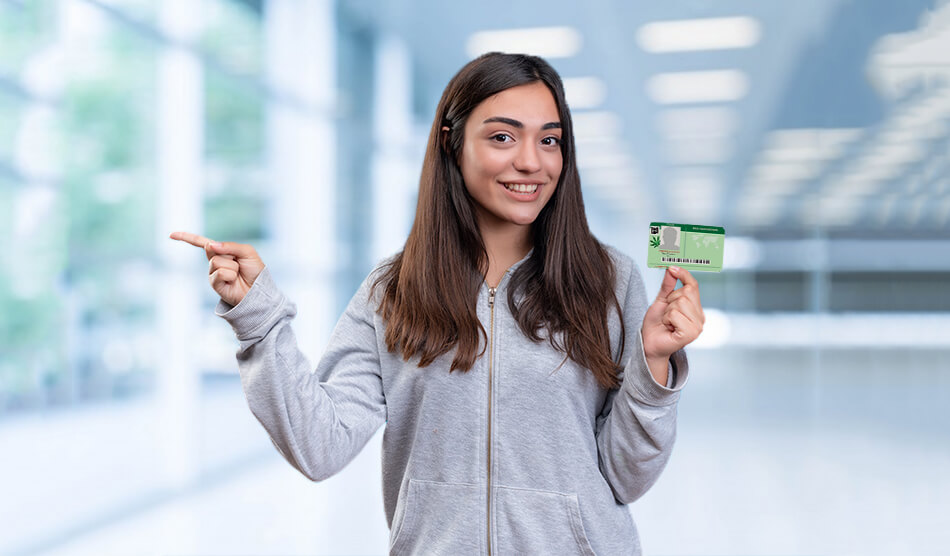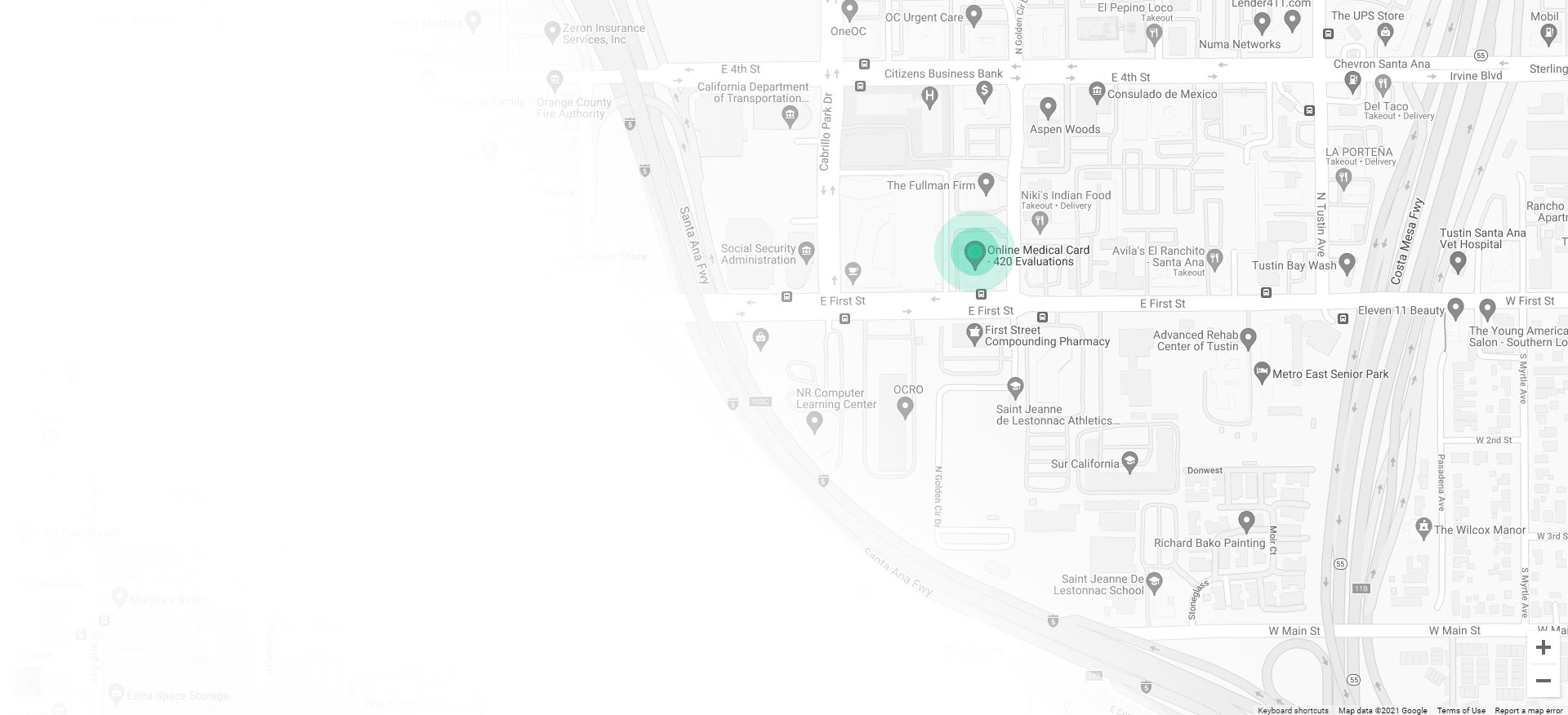 Proudly Serving You Since 2001
Walk-Ins-Accepted
Online Medical Card
2001 East 1st St. Suite 102.
Santa Ana, CA 92705
Hours
Mon-Sun: 9:00 AM – 10:00 PM
For any questions or concerns chat with us:
(13 hours/day – 7 days/week)
Frequently Asked Questions
---
Here you will find answers to all the commonly asked questions about our process and having a consultation with our marijuana doctor.
What Is a Medical Cannabis Recommendation?
A medical cannabis recommendation is a document that states you can use medical marijuana for a certain condition. It is legally binding and can help you avail of medical cannabis from state-licensed dispensaries. The document ideally contains personal details, the condition for which the said patient will use cannabis, the date of expiration and issuance, physician's license no., and the rec letter is always printed on the doctor's letterhead.
What Is the Difference Between a Cannabis Recommendation and a Medical Marijuana Card?
A recommendation is a doctor-approved document stating that you can use cannabis for a medical condition. In some states, such as California, a cannabis rec is enough for you to access cannabis. As for states that mandate patients to register under the state program, it is vital to get an MMIC.
Terms such as a recommendation and cannabis card are often used interchangeably. The only exception being that the former is approved by a doctor and the latter by the concerned authorities.
How Much Does a Medical Cannabis Card Cost?
The cost can vary from $39.99 to $200 at Online Medical Card for a medical evaluation with a state-certified doctor. The exact price will depend on the state you need a recommendation for.
The state fee for a medical cannabis card is different in every state and separate from your doctor's consultation fee. For instance, the state registration fees for a medical marijuana card is $25 in Alaska. But in New Jersey, the state registration fee is $100.
Is It Safe to Get a Cannabis Recommendation Online?
Absolutely yes. Online medical card is a secure telemedicine platform with state-licensed physicians onboard. We will keep all your information private in accordance with the HIPAA Act.
Is Online Medical Card Legit?
Online Medical Card is absolutely legit with HIPAA compliant telemedicine portal and genuine doctors. We provide MMJ evaluations through telemedicine – a legal tool to provide medical consultation to patients from the comfort of their homes. Because this technology is legal and we have state-licensed medical health professionals to help you out, it is safe to get your medical recommendation from us.
What Is the Right Age to Get a Medical Marijuana Card?
Anyone aged 18 and above can get a medical cannabis card. For minors, additional requirements apply. They can get one under the supervision of a caregiver, parent, or a legal guardian.
What Are Your Working Hours and How Do I Get in Touch With You?
Our team of doctors is available six days a week from 9:00 A.M. to 10:00 P.M. You can get in touch with our technical team and customer executives through a 24×7 online chat system. Or else, you can choose to contact us here – (888) 988-8420
How Will I Receive My Recommendation?
You will receive a PDF of your rec. to your registered email within 24 hours. If you have paid for a hard copy with an embossed seal or our $20 medical card, it will be shipped to your address within 2-4 business days.
What Happens if I Fail to Qualify?
All our patients are covered by our 100% money back guarantee. If our doctor does not qualify you or you do not receive your recommendation for whatever reason, we will give you a full refund. In either case, you can reach out to us at (888) 988 – 8420 or by chat. Explain your issue to our customer executives and we will try our best to find a satisfactory solution to your problem by either rescheduling your consultation or giving you a full refund.
How Do I Pay for the Service?
Online Medical Card accepts all major credit and debit cards. And if you fail to qualify, we will give you a 100% refund in your source account.
We do not accept insurance or cash as a payment.
Will My Records Stay Confidential?
Yes, all information provided by you remains confidential. Your medical records are sent directly to a marijuana doctor. No third party can access patient details and medical records without the consent of the patient. Our doctors are also strict followers of patient-doctor confidentiality. So, you can rest assured to always have a safe experience.
When Do I Need to Get a Renewal?
The validity of your medical card will depend on the cannabis laws of your state. You can check the expiration date on your state-issued identification card and apply for a medical card renewal with us 30 days prior. In case you are not aware of the renewal process, you can learn about the methods to renew a medical card in California.
How Can I Get My Medical Marijuanas Card Renewed?
You can get your medical marijuanas card renewed at Online Medical Card for a price starting from $45.99.
The renewal price varies in different states.
If you are on of our returning patients we'll look up your old information and get you evaluated quickly. The process will be the same and the physician will have some follow up questions for you to make sure everything is going well. We do honor this renewal price if you are renewing from another physician as well.
Does Online Medical Card Accept Insurance?
No, consultations at Online Medical Card are not covered by insurance yet. You can always talk with your insurance provider about the same for more details.
How to Buy More Marijuana at the Dispensary?
Every state has set a limit to buying marijuana. In California, recreational users can buy up to 1 ounce of marijuana, while the purchase limit for medical marijuana users is up to 8 ounces. The purchase limit will vary from one state to another. If 1 you wish to buy more marijuana, consult a medical professional to get qualified for a medical cannabis card and become a legal medical marijuana user. This way, you can enjoy exclusive benefits including a higher purchase limit.
How to Legally Carry and Possess More Marijuana?
You can legally carry and posses more marijuana by getting a legit medical marijuana card provided the amount in your possession is less than the legal possession amount in your state.
Recreational users are allowed to possess up to 1 ounce of marijuana in most states. In states with no set laws for recreational use, carrying marijuana can be a punishable felony.
In comparison, the carry and possession limit is higher for medical marijuana users. Additionally, they enjoy leverage from legal persecution when carrying cannabis as long as they have a legit recommendation from a doctor.
How to Travel With Marijuana Across State Borders?
You cannot travel with marijuana across state borders. However, if you are traveling to a state that has a dedicated medical marijuana reciprocity program, you may be able to purchase and possess marijuana as a non-resident medical marijuana patient with your MMJ card.
You have to be familiar with the reciprocity and medical marijuana laws of the other state to avoid any legal problems.
Learn more about reciprocity laws in the United States.
Can I Get a Medical Marijuana Card If I'm Under 21?
Yes, you can get a medical marijuana card even if you are under 21. The legal age limit for medical use of cannabis is 18 years in most states.
All patients over the age of 21 can apply for a medical weed card via telemedicine or in-person and qualify for the same if they suffer from one of the qualifying conditions as per their state's medical marijuana program.
NOTE: Check in with your state marijuana laws to learn about the qualifying age limit for medical marijuana use.
How to Get a Medical Marijuana Card If You're Under 18?
For a qualifying patient under the age of 18, a registered caregiver can apply for a medical marijuana card on behalf of the minor. The caregiver is required to submit the form, necessary documents, and take care of other formalities.
To begin, caregivers can simply apply online, book a consultation with a medical marijuana doctor and get the minor qualified for using medical marijuana.
Next, The caregiver must register themselves and the minor at their state's Department of Health's medical marijuana program (if applicable).
Once the minor is approved by a doctor, the caregiver must administer cannabis to the minor patient.