Online Medical Card - The Most Popular Marijuana Clinic in California
---
We believe that medical cannabis saves lives. Any person that can benefit from the wide variety of therapeutic uses should be able to access the medication easily. Since 2001, our doctors have done over 250,000 successful evaluations and can help you have a healthy life too.
Serving Over 50,000 Active Patients
Get a Medical Marijuana Card Online
Simple Steps for Applying Medical Cannabis Card Online
---
Here is how you can apply an MMJ Card Online through our HIPAA-compliant telemedicine portal. We house a team of board-certified health professionals who are dedicated to helping every individual seeking our help.
1. Pre-Qualification Form
Begin by filling a simple application form. All your
information is secured in accordance with HIPAA guidelines
2. Online Evaluation
Have a face-to-face consultation with our Cannabis doctor from your desktop or mobile phone via call
3. Receive Recommendation
After the doctor's approval, receive your Cannabis recommendation through email within minutes.
Make the smart choice!
Benefits of having a Medical Cannabis Card
---
Guaranteed Savings!
Tax relaxations and special discounts make MMJ products cheaper than recreational products. You can save an average of 28% more compared to recreational users and as much as 35% in some cities in California.
Legal Security
A medical card also provides legal protection, especially when driving or flying with medical cannabis. Get your Cannabis Card today and never worry about a possible arrest.
Range of Products
Unlike recreational cannabis, medical marijuana does not have a potency limit. Using an MMJ card, you can purchase high THC cannabis strains and other potent cannabis products
according to your need.
Higher Grow, Purchase, and Carry Limits
With a legit medical cannabis card, you can cultivate up to 100 square feet of medical cannabis in your home. The possession limit for Cannabis users is 8 ounces which is 8 times higher compared to recreational cannabis, and you can purchase 2X or more every visit as well.
Increased Access
While recreational dispensaries are still getting legalized in several parts of California, over 1000 medical dispensaries are already open to consumers in the state. Have wide access and get more price options, locations, strain and products with a medical card.
Age Restriction
In the state of California, recreational cannabis is
available only to people above the age of 21. Contrary to this, medical cannabis can be used by patients aged 18 and above with a rec from our professional doctors.
Save 25% or more on Cannabis with a Medical Card
Be smart! Don't wait and get your MMJ card today to save money on your medical bills.
Why Get Your 420 Card Online with Online Medical Card
Quick
Complete your 420 evaluations from your home in less than 15 minutes.
Convenient
Receive your rec on your email instantly and also get your hard copy delivered to your home.
100% Legit
Connect with a team of board-certified Cannabis doctors via telemedicine.






Our 420 Doctor-Signed Medical Marijuana Recommendation Letter Sample
After you are approved, you will receive your medical marijuana recommendation letter signed by our licensed doctor in pdf format. The letter states that you are under the doctor's care and can legally use marijuana to ease your symptoms. It includes the name of the patient, recommendation ID number, link for mmj verification, date of expiry, etc.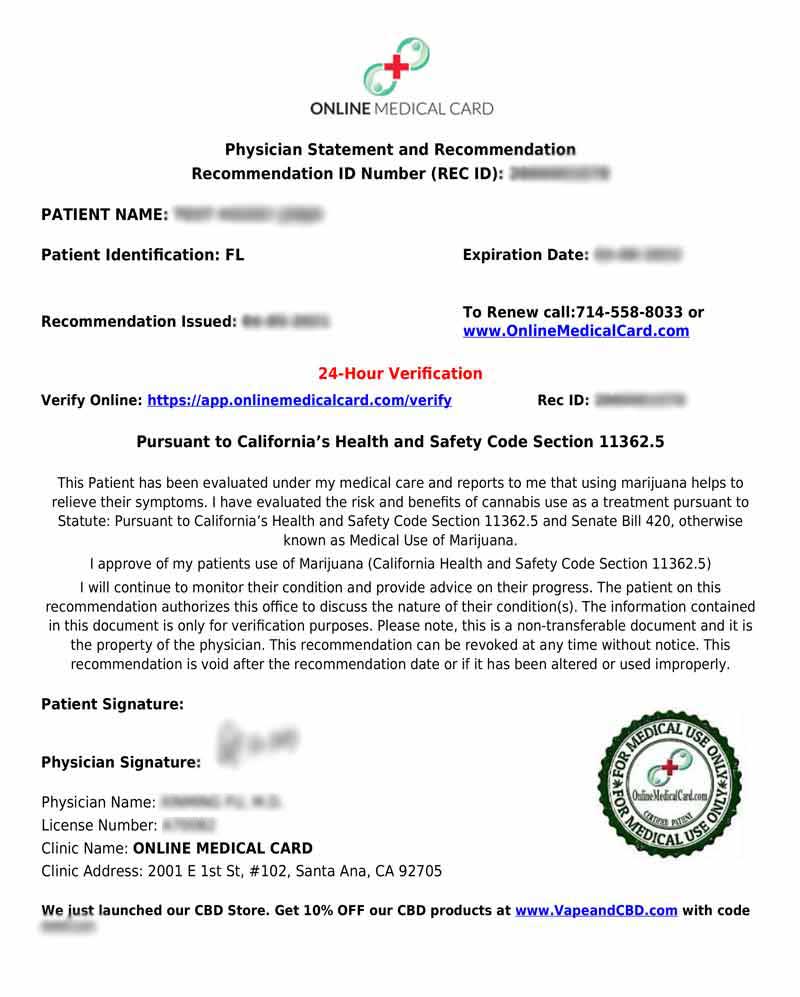 Choose The Plan That Fits You
---
It's never been easier to obtain your medical marijuana card.
PDF MMJ Recommendation For New Patients
✓

24*7 Verification & Support

✓

Instant Access to Cannabis

✓

Instant PDF Copy via email

✓

Access to all the Dispensaries in CA

✓

Legal Protection

✓

Secure Payment

✘

Hard Copy with Embossed Seal on It

✘

Grow Up to 99 plants
Recommended Plan for New Patients
✓

24*7 Verification & Support

✓

Instant Access to Cannabis

✓

Instant PDF Copy via email

✓

Access to all the Dispensaries in CA

✓

Legal Protection

✓

Secure Payment

✓

Hard Copy with Embossed Seal on It

✘

Grow Up to 99 plants
Medical Marijuana Card Renewal
✓

24*7 Verification & Support

✓

Instant Access to Cannabis

✓

Instant PDF Copy via email

✓

Access to all the Dispensaries in CA

✓

Legal Protection

✓

Secure Payment

✓

Hard Copy with Embossed Seal on It

✘

Grow Up to 99 plants
Medical Marijuana Grower's License
REGULARLY $249.99
$

199.99
✓

24*7 Verification & Support

✓

Instant Access to Cannabis

✓

Instant PDF Copy via email

✓

Access to all the Dispensaries in CA

✓

Legal Protection

✓

Secure Payment

✓

Hard Copy with Embossed Seal on It

✓

Grow Up to 99 plants
Is it Useful?
Benefits of an MMJ Plastic ID Card
---
By paying an extra fee of $20, you can apply for an additional Medical Plastic ID Card. It is a smaller and more convenient official MMJ documentation that is also accepted by all dispensaries in California. It is easy to procure and carry compared to a doctor's pdf rec.
A wallet-sized medical plastic-ID card adds convenience to your life by allowing you to travel, purchase, and carry medical marijuana products in California without any worry of legal implications.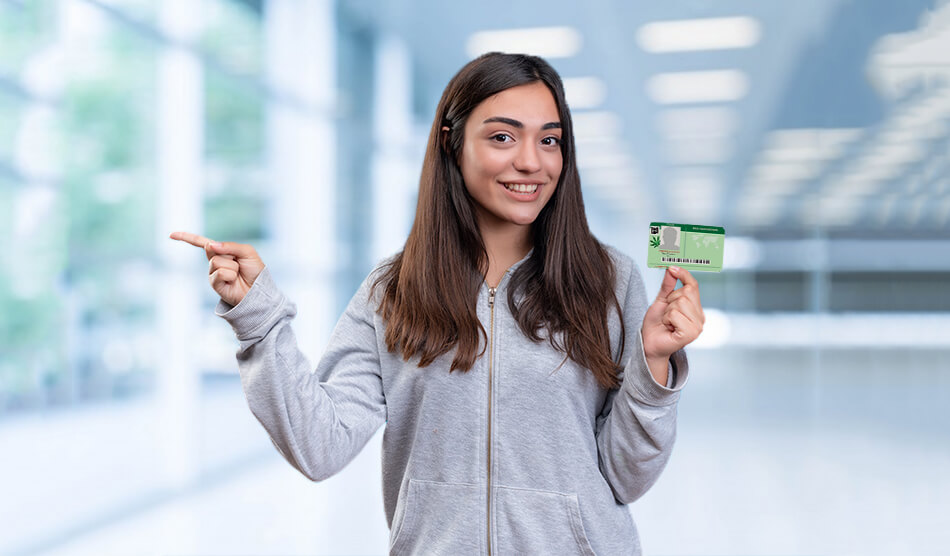 Our Mission
WE STAND FOR THE FREEDOM OF MEDICATION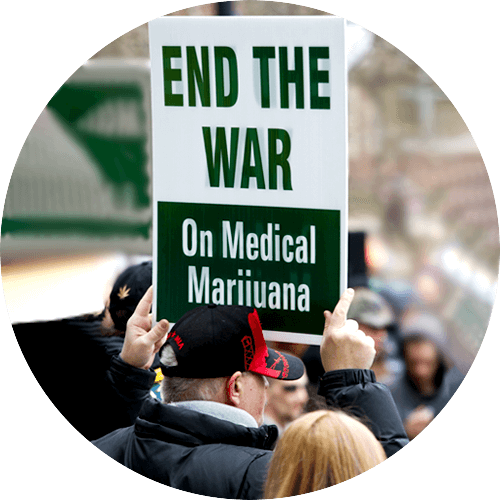 For 20 years, Online Medical Card has made an exemplary effort to spread awareness about holistic medicine and help patients get access to natural alternatives. Click Here to view Our Story.
We believe that best health care should be available and accessible to everyone, and we dedicate our lives to accomplish this mission. Although there is a need and use for pharmaceuticals, man-made medications often come with side effects.
We believe natural and herbal medicines should be tried first, and every human being should have the freedom to choose medicines that work for them. As such, we have fought for this right in California and several other states for over a decade.
Unlike clinics that consider marijuana as part of a business, we think that it serves a larger purpose. It helps people seek an alternative that comes with little or no side effects, and it is our belief to spread this information.
We have proudly been a major part of the movement to legalize medical marijuana and expand access to medical cannabis first in our home state and now across the nation. As part of our mission, we dedicate ourselves to making the process as simple, accessible, and efficient as possible for people to get their medicine.
Committed to educating patients about cannabis and its safe use, Online Medical Card uses its platform to help people understand the freedom of cannabis use.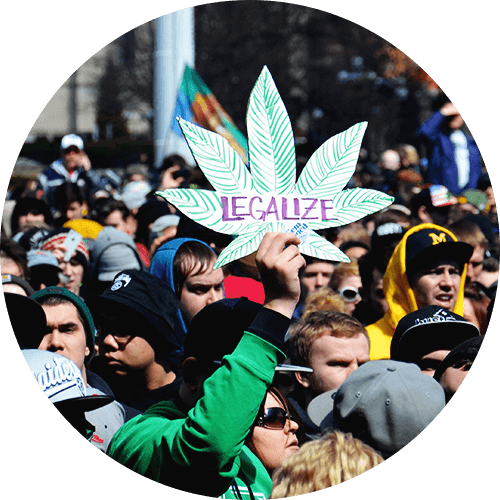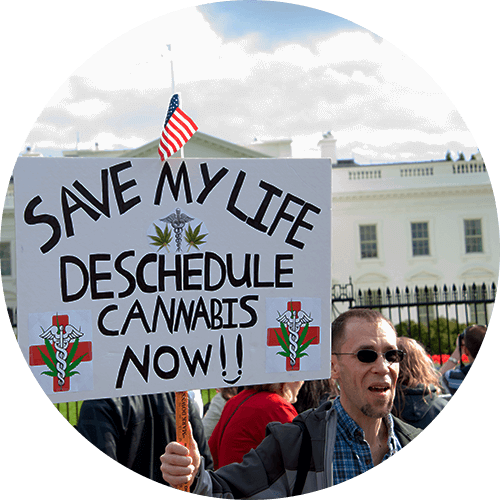 Through blogs, social media posts, and latest news, we bring forth an online platform that will help patients rise above the stigma associated with cannabis. Not only this, but we aim at giving patients what they deserve – and that is value for their money. This is our entire mission. To use all our resources to change the industry and help patients receive healthcare with the natural remedy of their choice.
In line with our mission we have also begun sourcing the best quality CBD products and selling them through our e-commerce store onlinecbdstore.com, also making CBD accessible, affordable, simple, and with quick shipping. To learn more about our history and our story, click here.
You Are Covered By Our Money Back Guarantee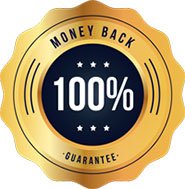 If for any reason you are not completely satisfied with your purchase, simply call us at (888) 988-8420 or email us at [email protected] to obtain a full refund.
You can verify our doctor's license at the Medical Board of California's website here: www.breeze.ca.gov
License: 138744, 70082
Why Us
What Separates us From The Rest?
---
Medical cannabis has proven to be an effective medical aid in healthcare and medicine. As a team of professional 420 doctors, we strive to help people receive the full spectrum of medical benefits of cannabis.
HIPAA Compliance
All your information is 100% safe and secure according to the HIPAA guidelines.
100% Money-Back-Guarantee
Get a full refund if you fail to qualify for the medical marijuana program.
Expertise
Get expert guidance from our team of highly qualified and licensed 420 physicians.
Quick Process
Our process is easy, quick, and hassle-free. It involves only three simple steps.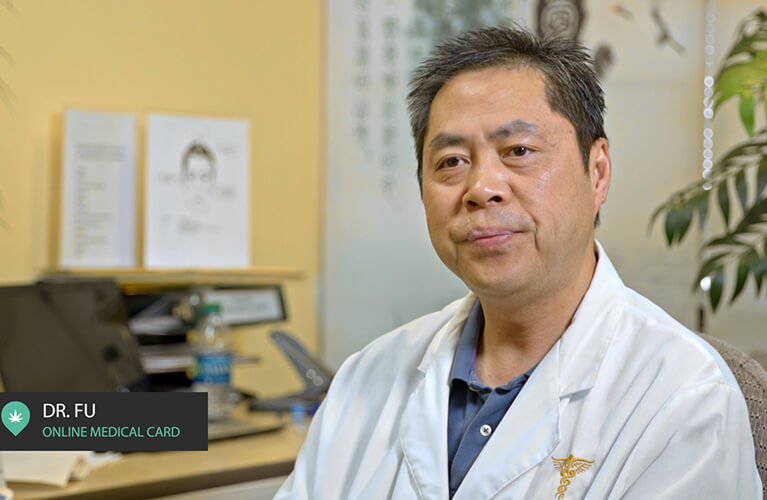 Choose the Best Medical Marijuana Doctors For You
---
At Online medical card, we have a team of state-licensed medical marijuana doctors. They can help you get your recommendation for your condition from the comfort of your home.
Plus as recent times go, all our services are conducted online. This way you are not in harm's way while getting your medical marijuana card. It is important that your medical marijuana doctors educate you when you come in for a medical marijuana card. When you have a face-to-face consultation with our physician, you can be sure that all your questions will be answered.
The process of finding a marijuana doctor does not have to be so daunting. Begin your journey with us and experience the convenience of getting a California Medical card.
Is Your Cannabis Doctor Legit?
---
California Counties will not approve a Medical Marijuana Identification Card if the doctor's address cannot be verified. PO Boxes are not accepted. With the rising popularity of telemedicine, many physicians are taking consultations online without a medical office. Do your research and choose a reputable medical clinic with an established history and physical location. Make sure that you talk to a real person before you give out your personal information. To avoid problems, look for the following aspects before getting a cannabis card.
✔ Real Physical Clinic w/ Verifiable Address (No P.O. Box)
✔ Call & Speak to a Real Person
✔ Experienced Licensed Physicians Only
✔ 24/7 Customer Support & Live Chat Available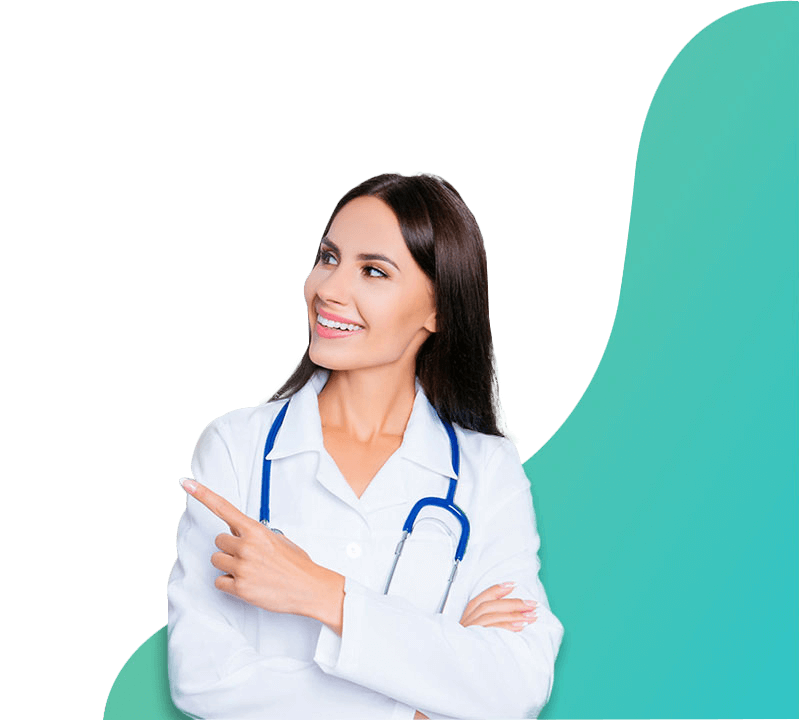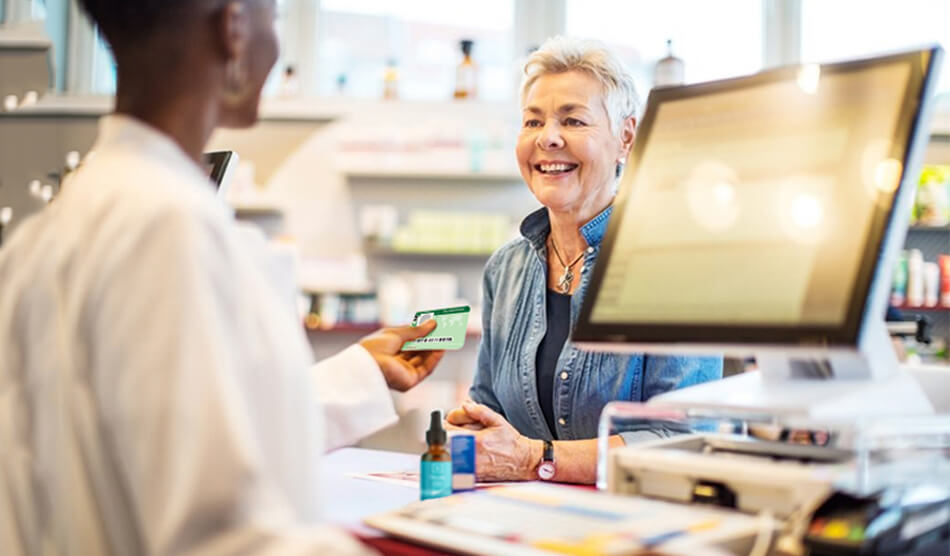 Your MMJ Journey Begins
What to do After Getting a Medical Marijuana Recommendation?
---
Here is what you can do after getting a medical marijuana recommendation.
Did you receive your medical marijuana card? Congratulations! Now it's time to put the card to use. Visit one of your nearest state dispensaries and make your first purchase. Choose from a variety of cannabis products and begin your journey towards a healthy life. You can also choose products from online stores and get it delivered. Make sure that the dispensaries or online stores you buy cannabis from is legit. Remember to use your Medical card before checkout to avail special discounts and enjoy exclusive privileges.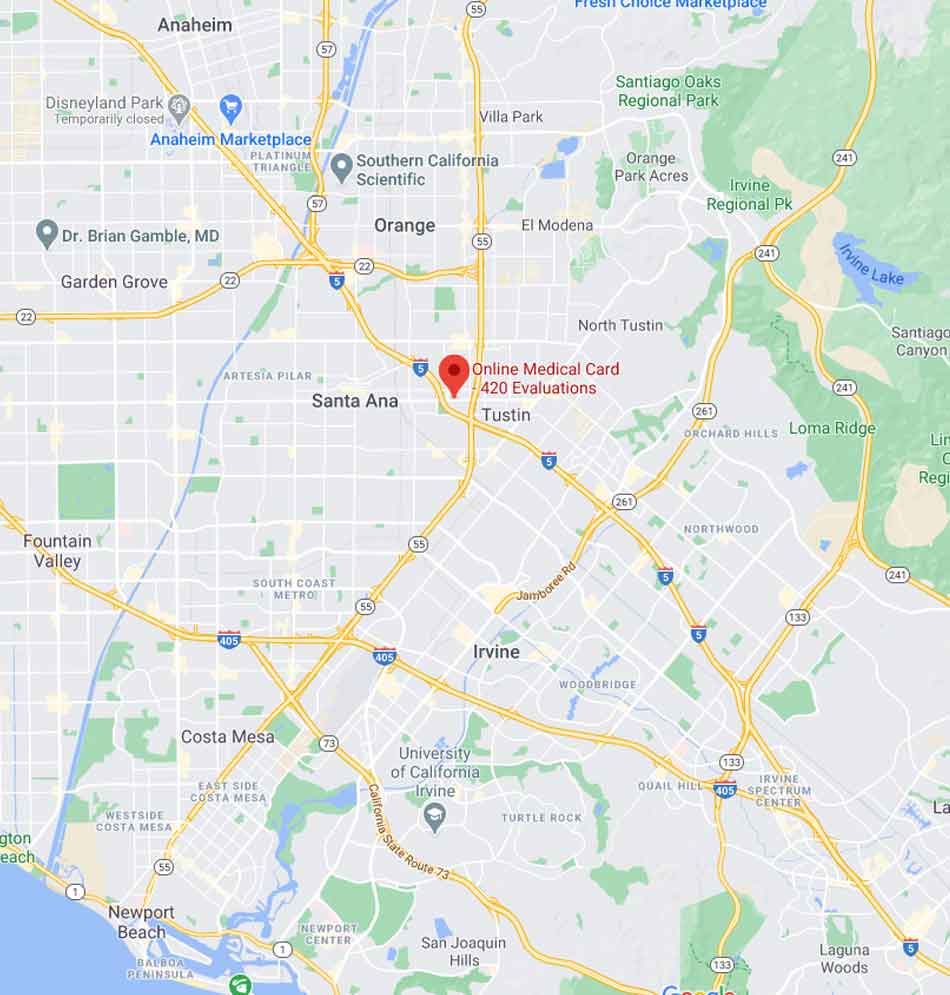 Proudly Serving You Since 2001
Walk-Ins-Accepted
Online Medical Card
2001 East 1st St. Suite 102.
Santa Ana, CA 92705
Hours
Mon-Sun: 9.00AM – 10:00PM
For any questions or concerns chat with us:
(13 hours/day – 7 days/week)
Avoid The Crowds, Long Waits And Hassle
---
FAQ
Frequently Asked Questions
---
When Californian voters approved Proposition 64, their main motivation was simple: Allowing Californians to be part of the state's emerging medical cannabis movement and receive complete legal protection for their cannabis use. But the implementation of recreational marijuana policy was not so simple. From January 2018, individuals 21 years and older were allowed to purchase cannabis legally. But there's a catch. Not every citizen was able to buy it. The truth is that most cities are still not prepared to introduce the much-anticipated laws since the Bureau of Cannabis Control is still in the midst of developing an online system for businesses to apply for operating licenses.
Here's how to apply for 420 medical card online:
Find a medical marijuana service that offers telemedicine consultations such as onlinemedicalcard.com
Provide your patient information and medical history to the doctor.
Submit proof of identity.
Speak to a certify physician about your condition.
Receive your MMJ recommendation via email or text.
It's no longer necessary for an individual to carry a medical marijuana card in 2021. However, there are several benefits associated with a medical card. For instance, MMJ card holders are exempted from paying sales and use tax. They can possess increased limits of marijuana and grow more plants.
Here are the benefits of obtaining your medical marijuana card in 2021
MMJ cardholders are exempt from paying sales and use taxes.
Eight times the possession limit as compared to recreational users who are constrained to one-ounce limit.
Growing limit of up to 100 square feet of marijuana plants.
Better access to cannabis products, price options as compared to recreational marijuana users.
Lower age limit for using cannabis i.e. 18 years.
Legal protection for traveling with cannabis provided you keep the original packaging intact.
Entitlement to receive cannabis gifts and product giveaways from dispensaries exclusive to medical cannabis card holders.
California's cannabis regulations mandate users to get a medical cannabis recommendation from a licensed physician before they can start using medical cannabis. In our quest to bridge the gap between patients and medical cannabis, we firmly believe that anyone who is medically qualified to use cannabis must have complete, legal access to it.
If you are looking to manage your condition with medical cannabis, you do require a medical card to access Cannabis products legally in California. Using telemedicine, you can get your medical cannabis recommendation online from licensed medical health professionals without any hassles.
Here's how much a medical card will cost you in California
It costs about $50 to get a medical card in California from a trusted Cannabis clinic such as the online medical card. You will be evaluated by licensed health professionals through a HIPAA-compliant telemedicine portal. They also provide a 100% money-back guarantee in case you fail to qualify.
The process for getting a medical marijuana card in California is relatively simple. It involves three steps.
Here's how you can get a medical card in California.
Fill out an application form.
You will be evaluated by licensed health professionals via video call.
If approved, you will receive the recommendation through email within minutes.
If you feel medical cannabis can help manage your condition, you can apply for a medical card online through telemedicine. Here you will be evaluated by a licensed health professional. If they feel you qualify for the medical marijuana program, you will receive the recommendation through email within minutes.
Do you want to know if Online Medical Card is legit?
Yes, Online Medical Card is legit. It is a BBB A+ accredited clinic based in Santa Ana, California. It provides recommendations through an HIPAA compliant telemedicine platform. Through this process, patients get face-to-face evaluations from licensed health professionals without even having to step outside their houses.
Here's how you can apply for a medical marijuana card:
To obtain a medical marijuana card, you have to first meet a state-licensed health physician to determine whether you have a qualifying condition to use marijuana or not. The doctor's evaluation will require you to provide medical documents such as health records and other documents that will help the health physician complete the evaluation.
Upon qualification, you will either register under a state MMJ program or simply, use the recommendation to purchase marijuana from licensed dispensaries. If the law requires you to register under a government-regulated medical marijuana program, you can fill an application online and submit the doctor's recommendation along with the application. Once approved, you will receive your medical marijuana ID card through state postal services.
You can get a medical marijuana card from licensed and state-registered health professionals.
Of course, provided you qualify for the evaluation first. For the evaluation process, you have to either visit a medical health professional in-clinic or else online.
This means that only registered health professionals with experience and knowledge regarding medical marijuana can help recommend cannabis to qualified patients. So, if you're looking for terms like where to get a medical marijuana card, first find a state-licensed doctor. At Online Medical Card, we have a team of state-licensed medical health professionals. You can get in touch with us today and receive online consultation.
Yes, you can use your medical card in another state provided you follow the guidelines issued under the reciprocity program of that state. For instance, states such as:
California
Alaska
Colorado
Arizona
Arkansas
Maine
Massachusetts
Hawaii
Michigan
New Hampshire
Nevada
Washington D.C.
Rhode Island
Oregon
Oklahoma and;
Pennsylvania
These all states allow out-of-state medical cardholders to use the card in their own state. The only thing you have to keep in mind is that each state has its rules related to marijuana use. So, check the rules first, and then use your out-of-state medical marijuana card.
The most common qualifying conditions to obtain a medical marijuana card in U.S. states and counties include:
Cancer
Nausea
Epilepsy
HIV/AIDS
Multiple Sclerosis
Persistent Muscle Spasm
Other qualifying medical conditions (approved for medical marijuana in several states) include post-traumatic disorder (PTSD), glaucoma, Crohn's disease, and severe forms of seizures.
In addition to this, states have slowly and steadily introduced several other medical conditions in the state list. These medical conditions will most likely vary from state to state. So, make sure that you check the state qualifying list before heading to a doctor for evaluations. The conditions are as follows:
Sickle Cell Anemia
Autism
Parkinson's Disease
Alzheimer's Disease
Inflammatory Bowel Disease
Arthritis
Terminal Illness
Wasting Syndrome
In some states, in particular, states that have strict rules may determine whether a patient is eligible for a medical marijuana card or not. All in all, state rules play a major role here. So, educating yourself on state laws is a must. The only exception, in this case, is minors. They can designate a caregiver to receive medical marijuana treatment under medical supervision.