Don't be a Turkey! Try These Medical Cannabis Delicacies this Thanksgiving!
- November 22, 2018
Thanksgiving can be stressful, especially when you are deciding the food menu and want to try something new this time.
How about making medical marijuana a part of your celebration this time?
Here are some easy-to-make  Medical Marijuana Recipes to make the day memorable for your friends and family-

Cannabis-infused Turkey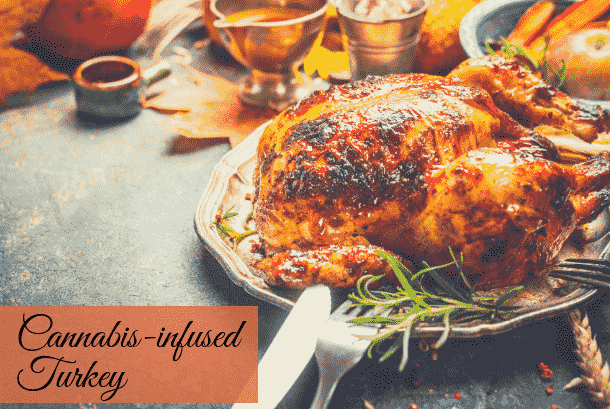 Turkey always remains at the center of almost all cuisines this day. Here we are providing the recipe for making a turkey dish using cannabis.
Ingredients-
12 lb turkey
½ cup cannabutter
1/4 oz. cannabis flower
3 tablespoons cannabutter
⅔ cup chicken stock
⅓ cup maple syrup
3 Tbsp lemon juice
3 cloves garlic, diced up
Salt and pepper

Steps to follow-
First, mix cannabutter as well as cannabis flower and heat them on low in a pan for 15 minutes. Remove from the heat and let it cool.

Once cooled, rub the cannabutter, salt, and pepper on the turkey.

Inject the left marinade inside the turkey.

Now preheat the oven to 450°F.

Pour 2 cups of broth or water in the pan. After that place the turkey in the oven. Turn down the oven to 350°F.

It will take approximately 3 hours to cook. However, you need to remove the turkey every 45 minutes and pour in rest of the marinade. Rest for about 15 minutes before putting it back again.
Pro-Tip-
The ideal time for cooking a turkey is 13 minutes per pound. Hence, set the time according to the weight of the turkey.
Wish to buy medical cannabis this Thanksgiving Day?
Get your MMJ Recommendation today.
Medical Marijuana Pumpkin Spice Latte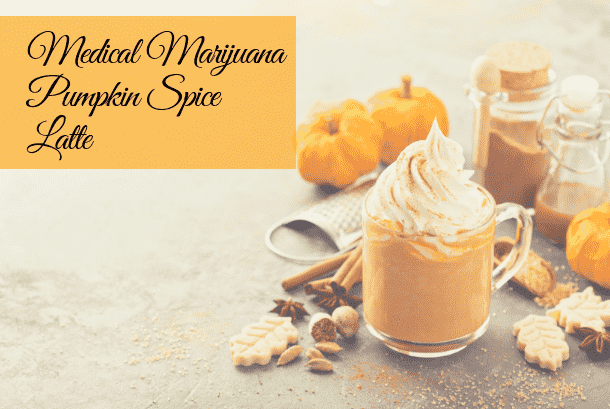 Enjoy this mouth-watering cuisine with this incredible coffee drink.
Ingredients-
2 Tbsp canned pumpkin
1/2 Tsp pumpkin pie spice
1/4 gram decarboxylated kief or ground hash
2 Tbsp sugar
1 Tbsp pure vanilla extract
2 cups whole milk
1/2 cup espresso or strong coffee
1/4 cup heavy cream whipped

Steps to Follow-
Mix pumpkin and pumpkin pie spice as well as dry ice kief/hash.

Put the mixture in a saucepan and cook while stirring over medium heat for about 30 seconds.  

Whisk the milk with vanilla extract inside the saucepan.

Continue cooking and stirring. Do not boil this mixture.

Divide the hot espresso into 2 cups. In each mug, add the half of each with pineapple mixture, then top it with whipped cream.

Serve immediately.
Pro-Tip-
The following recipe is for 2 people. You can increase the content in case more people are coming for the feast.
This recipe will have around 50 mg THC per serving if you use kief (40% THC).  You can adjust the dosage as per your requirements.
Also, Read- 5 Amazing CBD Products You Can't-Miss On The OMC Store This Fall
Mini Medical Marijuana Pumpkin Pie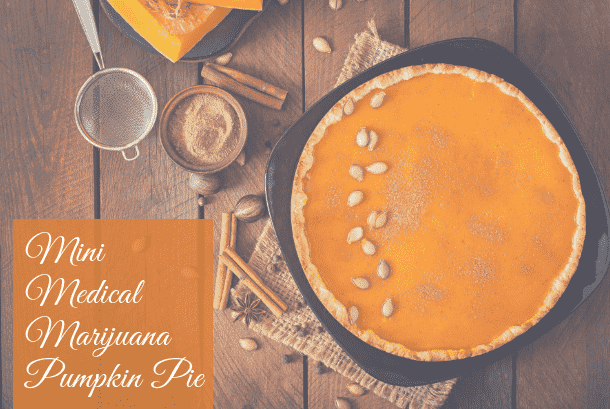 Ingredients
Crust
4 Tbsp cannabis-infused butter
6 Tbsp vegetable shortening
1/2 Tsp salt
1 1/3 cups all-purpose flour
2 Tbsp sugar granulated
5-6 Tbsp ice water

Filling
2 eggs large
14 ounces pumpkin
14 or 15 ounces sweetened condensed milk
1/4 Tsp salt
1 1/2 Tsp cinnamon
1 Tsp ground ginger dried
1/2 Tsp nutmeg ground
1/4 Tsp cloves ground
1 Tsp vanilla extract

Steps to Follow-
Prepare Crust- Cut up the cannabutter and another one into small chunks. After that place them in the freezer for at least 15 minutes.

Mix flour,  salt, and sugar using a blender. Add cold butter mixture until the time the mixture resembles coarse crumbs.

Then add ice water into this mixture until it gels together. This mixture should have a little moisture in it.  

Put this dough into a disk, then wrap it in plastic and refrigerate for at least 20 before rolling.

Now, remove the refrigerated dough and divide it into quarters. Place one of the quarters on a piece of plastic wrap sprinkle flour over it.   

Cover this with another piece of plastic paper.  Use a rolling pin to roll out the dough into a circle about an inch larger than a pan.  

After that, remove the top layer of plastic paper, center upside-down pie plate on the dough, and flip the whole thing over.  

Then, remove the 2nd layer of plastic paper and press the dough into the pie plate.  

Place these pie crusts in the freezer while you prepare filling.
Filling
Beat eggs using an electric mixer until it gets frothy.

Then add pumpkin, sweetened condensed milk, salt, cinnamon, ginger, nutmeg, cloves, and vanilla and beat again until everything gets mixed.

Pour this mixture into prepared crusts.

Bake for around 15 minutes. Then lower the temp. to 350 degrees F and again bake for another 25 minutes.   

Serve warm, at room temperature or cold.  

You can garnish with whipped cream as well.



Having medical marijuana recipes can be an awesome experience for this Thanksgiving Day. But, it's advisable not to use potent Indica strains as it can leave you groggy as well as tired which could ruin your festival mood.
Confused with the variety of strains available?
Contact Us Today.