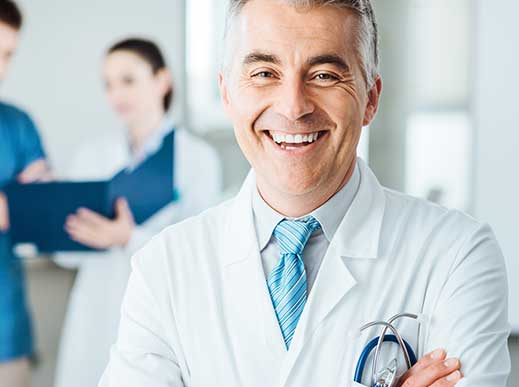 Who is a Medical Marijuana Doctor in Maryland?
---
A medical marijuana doctor in Maryland is a healthcare practitioner who is registered with the Maryland Medical Cannabis Commission (MMCC) to give out marijuana recommendations in the state. They conduct 420 evaluations to check a patient's eligibility for a recommendation. It is only after the patient qualifies the evaluation process can he or she use marijuana legally.
Other than a recommendation, one may also approach a marijuana doctor for marijuana-related queries as they are trained and well versed with the medical properties of marijuana and can help a patient with information about the proper use of the herb.

Get Your Medical Marijuana Card Online
Get Quick Consultations with Maryland Marijuana Doctors
---
Forget about the hassle of visiting a clinic or booking appointments. You can find Maryland's best marijuana doctors at home and get your recommendation. Here's how you can begin.
1. Pre-Qualification Form
Enter all the important details in a simple, 10-minute pre-qualification form.
2. Online Evaluation
Answer all questions and complete your online consultation with one of our doctors.
3. Receive Recommendation
If you qualify, you will receive a PDF of your recommendation in your provided email.
Why do You Need a Medical Marijuana Doctor's Recommendation in Maryland?
---
A medical marijuana doctor's recommendation in Maryland is a certification by an MMCC-registered doctor that gives you legal access to medical marijuana in the state. This recommendation is the only way for medical patients to use marijuana in Maryland.
Holding a medical marijuana recommendation in Maryland gives you the legal right to buy marijuana from a legal source, i.e. a state-licensed MMJ dispensary, and carry it with you without fear of legal penalties. However, in any case, you cannot use the herb openly, even with a recommendation, as it may attract legal trouble. If you are using marijuana in Maryland, it should be for medicinal purposes only and should be consumed on private property.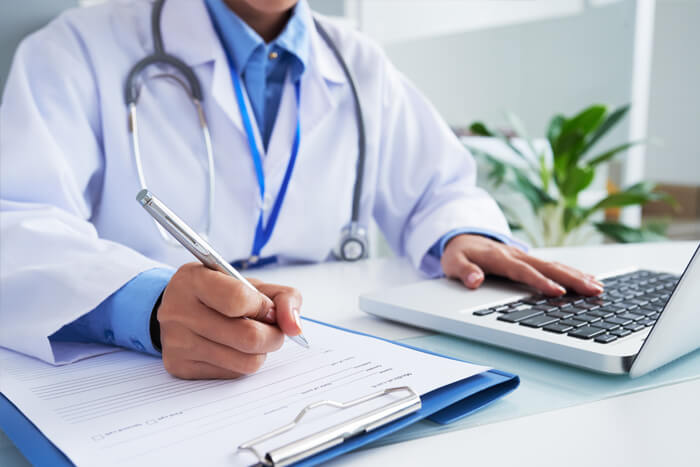 Looking for Medical Marijuana Doctors in Maryland?
---
Access board certified marijuana doctors in the state with just a click.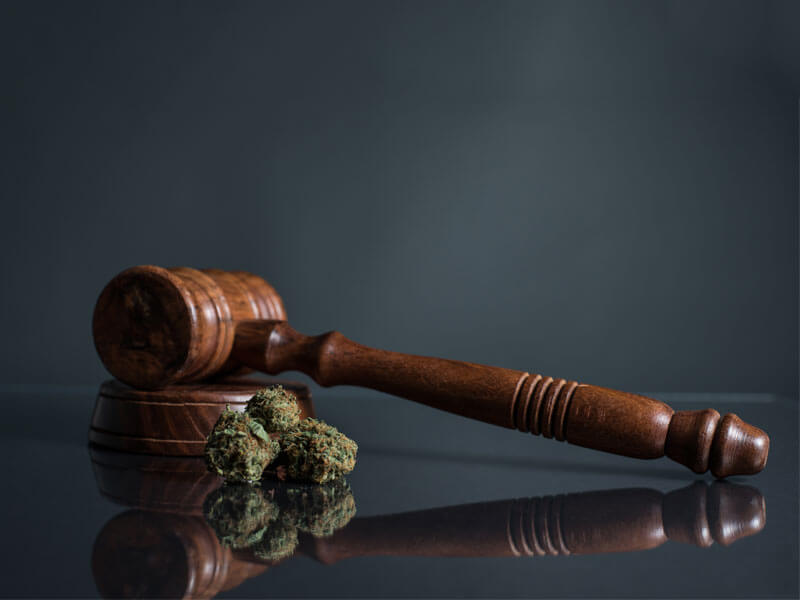 Medical Marijuana Laws in Maryland
---
Maryland established their medical marijuana program in 2014. Even with the legalization, marijuana laws are quite stringent in the state. If you become a qualified patient in Maryland, it's important that you are aware of the laws to avoid legal issues.
Marijuana is legal in the state for medicinal purposes only. As per the laws, both patients as well as medical marijuana doctors in Maryland must register themselves on the MMCC's official website to associate themselves with marijuana for any purpose.
As per the regulations, a patient can only buy and possess a maximum of four ounces (120 grams) of usable marijuana or one ounce of total THC in a period of 30 days or as recommended by the doctor.
A patient can purchase medical marijuana legally only from a registered dispensary.
Maryland does not allow the use of marijuana-infused foods or beverages. Hence, you might not be able to buy any edibles from a dispensary.
Growing marijuana is illegal in Maryland.
Who Can Get a Recommendation from a Medical Marijuana Doctor in Maryland?
---
The laws governing the use of medical marijuana in Maryland are some of the most stringent ones in the US. But, you can get a recommendation in the state only if you qualify the following eligibility criterias:
You must be registered with the MMCC.
You must be 18 years or older.
Suffering from one of the following severe medical conditions

PTSD
Cachexia
Anorexia
Glaucoma
Seizures
Chronic pain
Severe Nausea
Muscle Spasms

With a condition for which all traditional treatments have proven ineffective.
Under hospice or palliative care for their medical condition.
Along with having a qualifying medical condition, the patient also needs to prove that they are a resident of the state.
If the patient is a minor, he or she must have a registered caregiver.
While a medical marijuana doctor will decide if a patient is qualified or not based on a list of conditions, it is also upon the discretion of the doctor to determine if you will get a marijuana recommendation or not.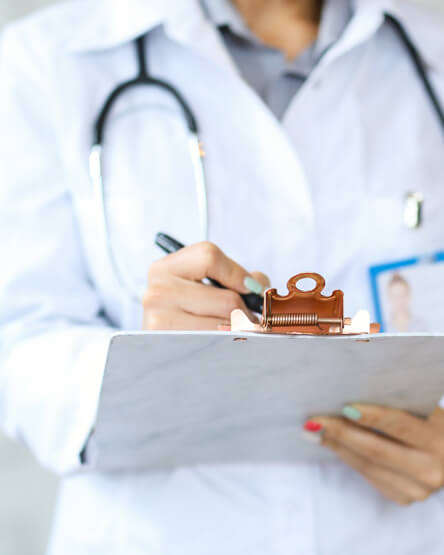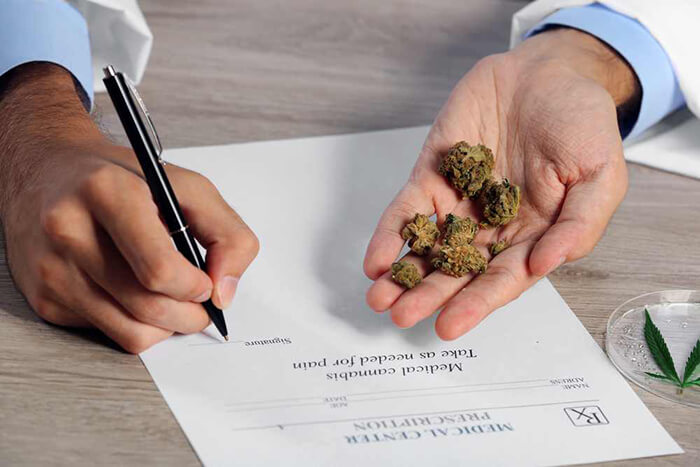 What Are The Benefits of Getting a Medical Marijuana Doctor's Recommendation in Maryland?
---
First and foremost, getting a medical marijuana doctor's recommendation in Maryland gives you legal access to the herb. It allows you to buy your favorite strains from any dispensary at a considerably affordable price.
Medical marijuana has been credited as an effective aid against many ailments, including PTSD, glaucoma, chronic pain, muscle Spasm, anorexia, seizures, and nausea. Experts say that the herb can help you find relief from these conditions very quickly. However, in order to use medical marijuana, you need a recommendation from a registered healthcare professional in the state. Once you have a recommendation from a marijuana doctor, you get access to all different types of marijuana products. Unlike other states, recreational marijuana isn't legal in the state so a marijuana recommendation is the sole way out if you want to use the herb to manage a medical condition.
You Are Covered By Our Money Back Guarantee
In case you fail to qualify for a medical marijuana card, we offer a full refund. Essentially, if you are not approved, you won't be charged. If for any reason you are not completely satisfied with your purchase, simply call us at (888) 988-8420 or email us at [email protected] to obtain a full refund.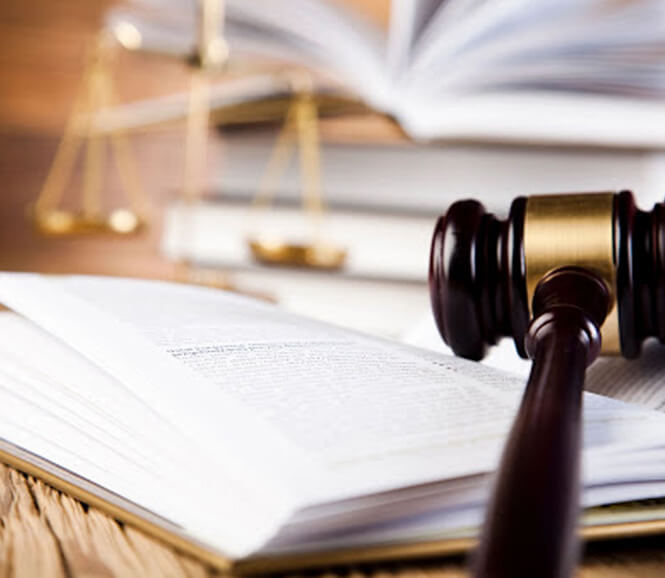 History of Marijuana Legislation in Maryland
---
In the year 1996, California became the first state of the US to legalize medical marijuana. It took 18 years more for the same to be repeated in Maryland. In the year 2014, Gov. Martin O'Malley signed HB881, also known as the Natalie M. LaPrade Medical Marijuana Commission Legislation, which made the use of marijuana in the state legal for medicinal purposes. With this was created the Natalie M LaPrade Medical Marijuana Commission. HB881 charged this commission with the work of establishing rules and regulations to oversee the consumption, possession, cultivation, and distribution of medical marijuana in the state.
In the beginning, only certain physicians and physician assistants were allowed to become Certifying Providers (who can write marijuana recommendations to patients). Recently, though, in 2019, MMCC released some changes in regulations. This added certified nurse midwives, nurse practitioners, podiatrists, and dentists to this list.
The laws require both patients as well as medical marijuana doctors in Maryland to register themselves on the MMCC official website to associate themselves with marijuana for any purpose.
How to Get a Medical Marijuana Doctor's Recommendation in Maryland?
---
The process of obtaining a medical marijuana doctor's recommendation in Maryland is a bit more complex than in some other states, given the strictness of laws. However, with a bit of knowledge and the right approach, you won't have to face any issues.
Here's how to get a medical marijuana doctor's recommendation in Maryland
Visit the official MMCC website and sign up as a new patient. Upload all the required documents and pictures, and pay the fees.
See a registered physician and get a written recommendation.
Visit the MMCC registry and print your temporary patient's ID card.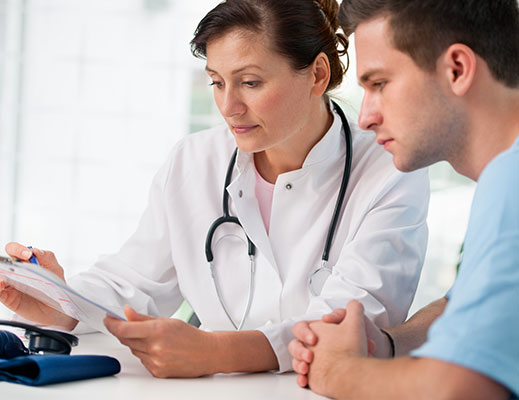 Get Access to Medical Cannabis with Our Medical Marijuana Doctors
---
Medical Marijuana Use Registry Maryland
---
The state of Maryland makes it a compulsion for all the qualified patients of the state to register with the Maryland Medical Cannabis commision in order to use medical marijuana. It's a way to keep a digital record of all the physicians as well as the patients and access it online whenever needed.
So, before you consult a doctor for a recommendation, you must go online and register with the MMCC. If you are above the age of 18 years, here's how you can begin to sign up on the website.
Keep an electronic format of all the necessary documentations.

A government-issued ID card (driver's license, military id, US passport, or a photo ID issued by the state).
Proof of residency.
A clear recent passport size picture

Create an account on the MMCC website using a valid email id.
Verify the link sent on your email.
Complete the application form.
Once all your documents are uploaded on the website, pay an application fee of $50. You may be able to waive this fee by producing a Maryland Medical Assistance or a VA card. After this, Note down your patient ID for further steps.
Wait for approval.
Visit a certified physician after approval of your application.
In the case of a minor patient, a caregiver will have to apply first. Only a parent or a legal guardian can be a caregiver for a minor patient.
Once registered on the website as a patient, visit a doctor registered with the MMCC. You may visit a medical marijuana doctor in Maryland online as well as in-clinic. Give them the patient ID you got while registering so that they can retrieve your application. After this, the doctor will evaluate your condition, and if everything goes right, will provide you with a written recommendation.
After getting the recommendation from a medical marijuana doctor in Maryland, all you need to do is visit the MMCC registry and print your patient ID card. Once done, you may visit any of the marijuana dispensaries in the state and purchase the herb without legal blockades.
FAQ
Frequently Asked Questions
---
It's common for people to have lots of questions and doubts about medical marijuana and the process of getting a recommendation. We understand your need for clarity which is why we have prepared a list of some of the most frequently asked questions.
Talking to a medical marijuana doctor for your recommendation may seem daunting. However, it need not be that way. If you know how to go about it beforehand, the whole conversation can go smoothly. Also, with the advent of telemedicine, the process of 420 evaluation has become a lot easier. Now, you can connect to our medical professionals from the convenience of your home.
Learn how to talk to medical marijuana doctors in Maryland
Find a good doctor online.
Do some research yourself about marijuana and how it may help your condition.
Be honest about your medical history.
Ask questions.
Listen to your doctor carefully.
Keep a journal for your marijuana-related experience for your subsequent visits to the doctor.
Taking the right approach while talking to your medical marijuana doctor, can benefit you a lot. A medical marijuana doctor, keep in mind, is there to help you. Hence, you don't need to feel embarrassed or hesitant. A doctor tries to understand your condition as best as possible during your 420 evaluations, only to help you efficiently. So, you need to be transparent with them. You let them help you by talking to them openly. You may talk to them openly about anything without any fear of judgment. Medical marijuana doctors in Maryland meet new patients every single day and are proficient in making them comfortable. So, be at ease and ask anything. They are the best source of information when it comes to marijuana.
Only a healthcare professional who qualifies as a medical marijuana doctor in Maryland can write a marijuana recommendation to patients in the state. For this, the professional must be registered as a "Certifying Provider" in the Maryland Medical Cannabis Commission (MMCC) website.
Initially, only a doctor or a physician assistant could register as a certified provider in Maryland. But recent changes in the laws have included certified nurse-midwives, nurse practitioners, dentists, and podiatrists too in the list. If they have an active license to practice in the state and are certified to prescribe controlled substances in Maryland, they can easily register with the MMCC.
Learn about how to register as a provider in Maryland here.
A registered medical marijuana doctor in Maryland may enhance their grip on the clinical use of marijuana by enrolling for an online course. The course is developed by TMCI global presenting the basics of the endocannabinoid system and how marijuana works in the human body. Any healthcare practitioner interested in learning about marijuana may take the lectures.
People of Maryland have waited for a long time to access medical marijuana. But with this dream becoming reality, a wave of scams also struck the sick and desperate who were waiting for this move to happen. Every day, we hear news of sketchy recommendations and pre-approved marijuana services, which is a matter of grave concern. With more and more instances of fake marijuana cards surfacing, it has become essential for people to learn how you can find a good marijuana doctor.
Here's how to find a good medical marijuana doctor in Maryland
Make sure the doctor is registered with the Maryland Medical Cannabis Commission.
Choose someone with an established history, especially if you are going to an online medical marijuana doctor in Maryland.
Don't fall for any pre-approved marijuana recommendation offers. They all are scams.
Dirt cheap prices or instant approvals are generally scams.
Laws in the state of Maryland specify a structured approach to get a medical marijuana recommendation, which our experts follow as it is. If a doctor promises you otherwise, do not believe them.
When it comes to ways of consuming marijuana in Maryland, there are a lot. A patient can choose the one as per their personal preference. Our online medical marijuana doctors in Maryland, though, suggest you consider some other factors too while choosing your way of administering the herb. These include your medical condition, body structure, metabolism, etc.
If you want to learn how to go about it, our medical marijuana doctors in Maryland have made it easier for you. Some of the ways of marijuana consumption our physicians suggest are as given below.
Flower/Smokables
This is the most widespread and traditional way of marijuana consumption in Maryland. One can smoke marijuana via a joint, bong, pipes, etc. The method includes burning or heating the flower and inhaling it. The cannabinoids then enter your system via the lungs. For people looking for quick effects of marijuana, this method is quite favorable.
Medical marijuana doctors, though, believe that the method isn't the most suited to health-conscious users. Inhaling marijuana can be quite harsh on your lungs. Hence, avoid it if your lungs are sensitive.
Oils and Concentrates
Oils and concentrates are perfect for people looking for quick results. Also, the application is easy. These are extracted from a marijuana plant without any leaf matter. One may consume it via vaping or ingest it directly. Our medical marijuana doctors, however, warn against excess use. Oils and concentrates are very strong. Hence, you need to be careful.
Tinctures
Marijuana doctors in Maryland believe tinctures to be an excellent way of consuming marijuana for a medical user. They are taken sublingually and give you precise control over your dosage. Additionally, with tinctures, you can be discreet and portable. Our marijuana physicians suggest them to people with pain or nausea.
Non-Intoxicating Ways of Consuming Marijuana
For people who want to benefit from marijuana but are not interested in getting high, marijuana doctors in Maryland suggest the following methods.
Topicals
Topicals are marijuana-infused products that you may apply directly to the problematic area of your body. From here, the cannabinoids enter your system via the skin. As the cannabinoids are not entering your bloodstream, it does not intoxicate you.
CBD-Only Products
CBD-only products are also a great choice for people looking for only the therapeutic benefits of marijuana. CBD is responsible for most of the medicinal effects of the herb. And it does not contain any significant amount of THC (the cannabinoid responsible for making your high). Hence, you can use them freely. Our marijuana doctors say CBD products can effectively help people with anxiety, PTSD, insomnia, etc.
If you have a medical marijuana recommendation, you can access any of the above products legally from a dispensary. Contact our marijuana doctors in Maryland online to get your recommendation now.
Where Can You Consume Marijuana in Maryland?
In Maryland, you can only consume marijuana on private property. Laws do not allow the use of the herb in any public place, in a moving or parked vehicle, or at a place where smoking is not allowed in general. One cannot even ride a bicycle in Maryland while or after consuming marijuana. Online medical marijuana doctors in Maryland especially warn you against driving or doing something that requires attention under the influence of marijuana. This is not only illegal but may also lead to an accident. Be safe.