The State of Nevada legalized the medical use of cannabis with the Nevada Medical Marijuana Act. The act was passed in two consecutive elections in 1998 and then again in the year 2000. With majority votes supporting the act, the state officially legalized medical marijuana in June 2001 and established a Medical Marijuana Program.
Nevada Medical Marijuana Program comes under the jurisdiction of the Department of Health and Human Services Nevada Division of Public and Behavioral Health (DPBH). The Department also established the Cannabis Compliance Board (CCB) to regulate the cannabis industry and its licensing and operations.
While access to cannabis in Nevada is getting easier with every passing year, there's no doubt that having a medical marijuana card can render legal security and other benefits to a medical patient. So, here's a detailed guide on getting a medical marijuana card in Nevada and all the important laws you must know as a legal MMJ patient in the state.
How to Get a Medical Marijuana Card in Nevada?
The process of getting a medical marijuana card in Nevada is pretty straightforward. Since only recommended use of cannabis is allowed for medical patients, a visit to a licensed doctor is the first and most important step. So, a patient first needs to qualify for a medical card and then apply for one.
Here's how to get a medical marijuana card in Nevada:
Have a consultation with a licensed physician in person or online.
Receive your recommendation.
Use your doctor's recommendation to fill out the application form for a Medical Marijuana Patient Identification Card.
Let's get into each step in detail.
Step 1 Consult a Licensed Physician
Your first step to getting a medical marijuana card in Nevada is to see a state-licensed physician. Medical use of cannabis should not be unsupervised. The role of a physician in this process is to evaluate a patient medically as well as according to the laws of the state.
The doctor ensures that a patient is qualified as per state medical marijuana laws. Additionally, a licensed doctor is also responsible for completing the Attending Healthcare Provider Statement which is an important document that you need in order to fill out the application form for a medical marijuana card.
You can consult a doctor in person or online.
Visit a Doctor
Start by finding a licensed doctor near you. Make an appointment and have a consultation. There is no specific list of healthcare providers who are authorized to provide an MMJ recommendation in Nevada. However, if you are looking for a physician who can write you a recommendation, preferably ones who are either of the following:
Doctor of Medicine (MD)
Doctor of Osteopathy (DO)
Physician Assistants (PA)
Advances Registered Nurse Practitioners (ARNP)
Have a 420 Evaluation Online
With the advent of telemedicine, patients can have a consultation online. It allows for a simple, quick, and hassle-free process to receive a recommendation.
Online Medical Card helps you connect with the best doctors in Nevada and get approved on the same day. The process is simple.
Visit www.onlinemedicalcard.com and register.
Fill in a simple pre-qualification form.
Have an online consultation.
Upon approval, receive your recommendation.
The online platform is HIPAA compliant and therefore completely safe for online consultations.
Step 2 Register With the Medical Marijuana Patient Cardholder Registry
Upon receiving the Attending Healthcare Provider Statement, you must register on the Nevada Medical Marijuana Registry.
The DPBH has now made the application process online. Opting for the online process saves you a lot of time, money, and effort. Follow this step-by-step process to apply for a medical marijuana card in Nevada:
Visit the online portal to login or register here.
Keep a digital copy (scanned or photo) of the front and back of your driver's license or state-issued ID card.
Attach the file (PNG, JPG, or TIF), enter your details, and click on register.
If you do not wish to apply online, mail your application along with all the documents to:
Nevada Division of Public and Behavioral Health
ATTN: Medical Marijuana Division
4150 Technology Way, Suite 101
Carson City, Nevada 89706
Once you've registered with the program, complete the rest of the application form online. You can choose between the one-year or the two-year card and make the payment accordingly.
Online applications are generally approved within 1-2 days or less. If your application was denied due to incomplete information, you can reapply again immediately. However, if your application was denied for any other reason, you can re-apply only after 6 months.
You can use the copy of your application to buy and use medical marijuana until the card arrives.
Did You Know: Chronic Pain and Muscle Spasms are the most common diagnosis for medical marijuana patients in Nevada.
What Is the Cost of a Medical Marijuana Card in Nevada?
There is no cost of registration, however, you will have to submit a fee after submitting your application.
In Nevada, you get to choose between a one-year and two-year medical marijuana card. Your application fee will be according to the plan you choose. The one year registration costs $50 and the 2 year registration costs $100. Nevada does not waive the application cost under any circumstance.
The cost of a medical marijuana recommendation will vary from one doctor or clinic to another. The charges will vary based on factors like in-person or online visits and whether or not they complete your registration process with the DPBH.
Who Qualifies for a Nevada Medical Marijuana Card?
The purpose of an established medical marijuana program is to ensure that an MMJ card is issued to people in need and that the herb is used properly. The Nevada medical marijuana program sets up a list of requirements that define a qualified patient in the state. They are as follows:
The patient must be a permanent resident of the state.
The patient must be of legal age (18 years and older).
The patient must suffer from one of the medical conditions approved for a medical marijuana card.
Must not have a commercial driver's license from any state.
When applying for an Attending Healthcare Provider Statement, a licensed physician who is experienced in medical marijuana and its laws will ensure that you fulfill all the requirements mentioned above.
What Are the Qualifying Medical Conditions for a Nevada Medical Marijuana Card?
Medical use of cannabis is not legal for anyone with a health issue. Like other states with established medical marijuana programs, the state of Nevada also has a list of medical conditions approved for a medical marijuana card.
As per NRS 453A, the 'chronic or debilitating medical conditions' qualified to fr a Nevada Medical Marijuana Card are:
Cancer
HIV/AIDS
Autism
Anxiety
Anorexia
Cachexia
Glaucoma
Autoimmune Disease
Opioid addiction or dependence
Muscle Spasms
Multiple Sclerosis
Severe Nausea
Chronic Pain
Seizures, not limiting to ones caused by epilepsy
NOTE: Qualifying medical conditions are not limited to the list mentioned here. You must connect with a doctor experienced in medical marijuana to learn more.
How Long Is a Nevada Medical Marijuana Card Valid?
A Nevada Medical Marijuana Card is valid for a period of one year or two years, depending on the registration card you selected while filling the application form.
You can check the front of your medical card for the expiration date. It is advised to get a renewal 30 days prior to the date of expiration to continue availing the benefits of a medical card.
A medical marijuana recommendation in Nevada is valid for 1 year only. You will need to get your recommendation renewed too if you wish to apply for a medical marijuana card renewal.
Can Minors Apply for a Medical Marijuana Card in Nevada?
Yes, minors or patients below the age of 18 can apply for a medical marijuana card in Nevada.
You must fulfill the following requirements in order to become a designated primary caregiver in Nevada:
Must be 18 years of age or older.
Must take responsibility for the well-being of a patient suffering from a debilitating medical condition.
Must not be an attending health care provider or the patient.
NOTE: A minor can apply for only one caregiver
The caregiver can register on behalf of the minor by filling in the 'Minor Application Request Form' and mailing it to the Department or by giving a call on the Medical Marijuana Registry at 775-687-7594.
Currently, there is no online application for a medical marijuana card for minors. If you have a minor who can benefit from a medical marijuana treatment, consider contacting the registry for help.
Once registered as a primary caregiver, you must remember the following:
Must not possess more than two and a half ounces of usable marijuana within a 14-day period.
Must not possess more than 12 marijuana plants, mature or immature.
Overview of the Nevada Medical Marijuana Laws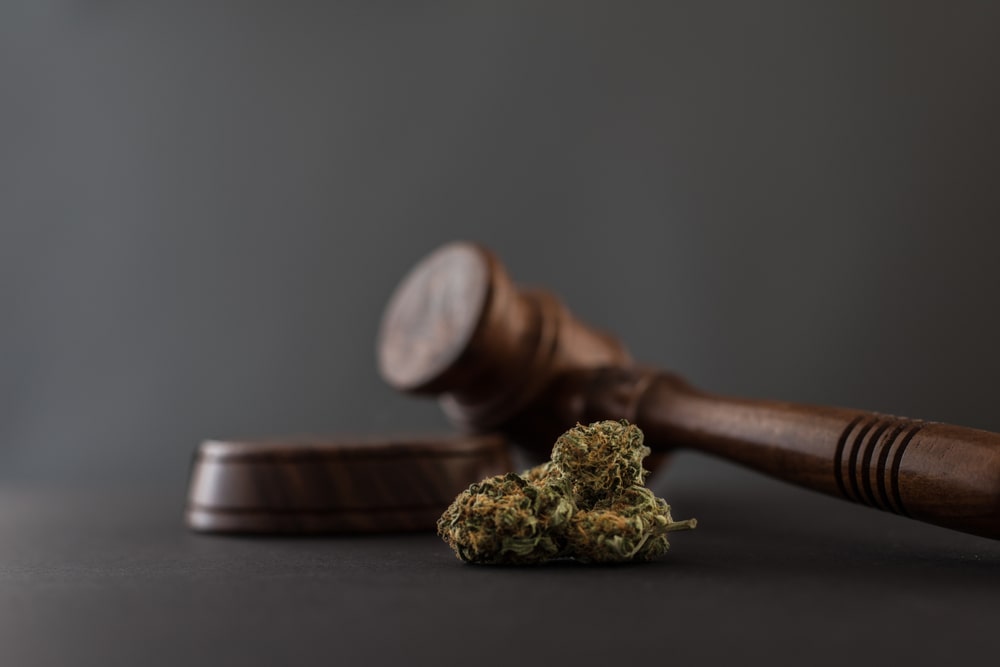 A Nevada Medical Marijuana Card will offer you legal security to buy and use cannabis in the state but it's essential for all MMJ patients to follow the state marijuana laws too. If you are applying for a medical marijuana card in Nevada, here's a quick overview of the laws you must know.
What Is the Legal Possession Limit of Medical Marijuana in Nevada?
The legal possession limit of usable medical marijuana in Nevada is 2.5 ounces every 14 days and equivalent in edibles (no more than 10g of THC). Possessing more than the legal amount can attract fines or legal complications.
Usable medical marijuana refers to seeds, buds, dried leaves, and any cannabis type that can be smoked immediately.
As Nevada also allows the use of recreational marijuana, all adults (21 years or older) can legally possess 1 ounce of usable marijuana. However, exceeding the possession limit will be considered as a misdemeanor with a maximum fine of $600.
Can You Cultivate Cannabis in Nevada?
Yes, you can cultivate cannabis in Nevada if you have a valid medical marijuana card. A registered patient can possess no more than 12 cannabis plants (mature or immature) and all the harvest legally.
You can grow your own cannabis only if:
The nearest dispensary is out of reach (25 miles or more.)
Your illness or lack of transportation does not allow you to access your nearest dispensary.
Your local dispensary cannot provide you with the strain or product you require for your medical condition.
Cannabis plants and their harvest should be stored in an enclosed space out of sight of the public.
Does Nevada Follow Medical Marijuana Reciprocity?
Yes, Nevada follows medical marijuana reciprocity. MMJ patients from other states can use their MMJ card and a photo ID card to buy and use cannabis in Nevada. The DPBH has a list of states whose MMJ cards are accepted in Nevada.
Read more about these states here.
You must check in with the medical marijuana laws of the state you are traveling to in order to know if you can use your Nevada MMJ card there.
Is Recreational Marijuana Legal in Nevada?
Yes, recreational marijuana is legal in Nevada. The Regulation and Taxation of Marijuana Act (Question 2) was approved in November 2016 which legalized recreational marijuana in Nevada.
The law was put into effect in July 2017 which allowed all adults (21 years or older) to buy, use and possess a limited amount of cannabis without facing legal problems.
How Does Having a Nevada Medical Marijuana Card Benefits You?
Having a Nevada medical marijuana card benefits you in the following ways:
| | Medical Marijuana | Recreational Marijuana |
| --- | --- | --- |
| Possession Limit | 2.5 oz | 1 oz |
| Cannabis Cultivation | Can grow up to 12 marijuana plants. | Can grow up to 12 marijuana plants only if they live more than 25 miles away from a state dispensary. |
| Tax exemptions | Do not have to pay 10% sales tax on marijuana. | Have to pay all marijuana taxes. |
| Age Limit | Can be 18 years or older and minors with caregivers. | Must be 21 years or older. |
| Access | Easy access to all state dispensaries and cannabis products. | Access to dispensaries and products are limited. |
Can You Travel With Medical Marijuana in Nevada?
You can travel with medical marijuana in Nevada but you must not cross the state boundaries. Additionally, it is legally prohibited to drive under the influence of cannabis. It attracts a legal penalty even for patients with a medical marijuana card.
Crossing state boundaries while in possession of cannabis, medical or recreational, is a federal offense. Since cannabis is a Schedule 1 Drug at the federal level, you must not be in its possession in an area that's under federal jurisdiction.
With more than at least a hundred isolated cannabinoids, there is far more that this plant has to offer than the famous euphoric effects at large. Every cannabinoid comes with its own set of effects and benefits. Do not treat this as an exhaustive list by any means. Every passing day is bound to get more research and a better understanding of these minor cannabinoids.