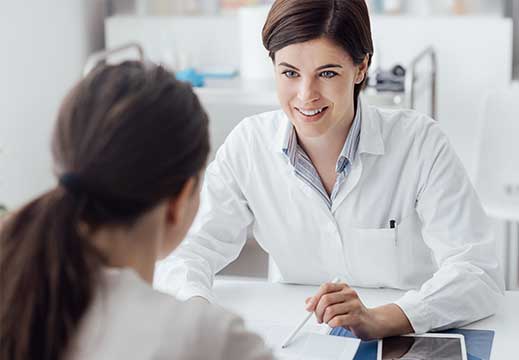 Quick and Easy Recommendations From Expert Medical Marijuana Doctors at Your Home
---
You don't have to leave your home to get legal access to medical marijuana. Get the expert guidance of medical marijuana doctors in Pennsylvania through a safe and secure online platform and get your medical card through your phone screens. No appointments or hassle.
All you need to do is follow a simple and secure online process and go along the steps that follow. So, don't wait anymore. Apply for a consultation in minutes and get approved on the same day.

Our Process
Become a Legal Medical Marijuana Patient in Pennsylvania in Three Simple Steps
---
Before applying for a consultation with us, you need to register with the Pennsylvania medical marijuana program through the medical marijuana registry.
Once you are done, follow three simple steps to get a recommendation from one of our medical marijuana doctors in Pennsylvania which you can later use to complete your application in the registry.
1. Pre-Qualification Form
You begin by registering on our HIPAA compliant platform and filling out a basic pre-qualification form.
2. Online Evaluation
Have a face-to-face consultation with a medical marijuana doctor who will decide if you qualify or not.
3. Receive Recommendation
Once your evaluation is done, you will receive a PDF of your recommendation by email on the same day.
Benefits of a Medical Marijuana Card In Pennsylvania
---
A medical marijuana card can go a long way in helping you manage your medical condition. It's also one way to enjoy the privileges that come along with being a registered medical marijuana patient in the state of Pennsylvania. Here are a few of them:
Access Cannabis
Since Pennsylvania is a medical-only state, the only way to legally access marijuana in a legal manner is with the help of a recommendation issued by certified medical marijuana doctors.
Access Dispensaries
All your medication should come from a licensed dispensary that only allows patients with a legit medical marijuana card to make a purchase.
Safe Products
An MMJ card ensures that you not only gain access to a wide variety of cannabis products but also get ones that are properly lab-tested and ensured to be safe for medical use.
Legal Protection
With an MMJ card, you are legally allowed to possess, transport, and consume medical marijuana products in the state. No one can question you or impose criminal charges as long as you have a valid medical card.
Reciprocity
Even though Pennsylvania does not practice medical marijuana reciprocity, there are plenty of other states such as Massacchusets and Rhode Island that do accept a Medical marijuana card from Pennsylvania.
Better Health
Medical marijuana's medical potential often surpasses that of modern medicine. If other treatments haven't worked for you, use your medical card to buy the herb which may be the much needed solution for you.
Looking for Medical Marijuana Doctors Near You?
---
Look no further. Find the best medical marijuana doctors in Pennsylvania at Online Medical Card.
You Are Covered By Our Money Back Guarantee
In case you fail to qualify for a medical marijuana card, we offer a full refund. Essentially, if you are not approved, you won't be charged. If for any reason you are not completely satisfied with your purchase, simply call us at (888) 988-8420 or email us at [email protected] to obtain a full refund.
Get Access to Medical Cannabis with Our Medical Marijuana Doctors
---
Who Can be a Qualified Patient in Pennsylvania?
---
Like other states with legal medical marijuana, Pennsylvania has its list of qualifying medical conditions. All state certified medical marijuana doctors in the state use this list to determine if a patient qualifies for a medical marijuana recommendation or not. The list is as follows:
Amyotrophic lateral sclerosis
Anxiety disorders
Autism
Cancer, including remission therapy
Crohn's disease
Damage to the nervous tissue of the central nervous system (brain-spinal cord) with objective neurological indication of intractable spasticity, and other associated neuropathies
Dyskinetic and spastic movement disorders
Epilepsy
Glaucoma
HIV/AIDS
Huntington's disease
Inflammatory bowel disease
Intractable seizures
Multiple sclerosis
Neurodegenerative diseases
Neuropathies
Opioid use disorder for which conventional therapeutic interventions are contraindicated or ineffective, or for which adjunctive therapy is indicated in combination with primary therapeutic interventions
Parkinson's disease
Post-traumatic stress disorder
Severe chronic or intractable pain of neuropathic origin or severe chronic or intractable pain
Sickle cell anemia
Terminal illness
Tourette syndrome
Pennsylvania also allows minors to apply for a medical marijuana card provided they have one or maximum 2 legal caregivers who are 21 years or older. A caregiver must be one of the following-
A parent or legal guardian.
A person designated by a parent or legal guardian.
An individual approved by the Department of Health (in case there's no parent or legal guardian).
FAQ
Frequently Asked Questions
---
We understand that you may have many questions and doubts about online medical marijuana card services. So, we have answered some of the most frequently asked questions to give you some clarity.
A medical marijuana doctor in Pennsylvania can write recommendations for patients only if they fulfil the following requirements:
A physician must register with the Department of Health Physician Registry.
A physician must submit his credentials, training, experience, etc. The department must determine whether the physician is qualified to treat severe medical conditions.
A physician must have successfully completed 4 hours of Continuing Medical Education from a provider approved by the following:

The State Board of Medicine and the State Board of Osteopathic Medicine
The State Board of Pharmacy
The State Board of Nursing
After the physician submits the application, the Department of Health shall review it to decide whether to add him or her in the registry.
Many feel nervous when talking to medical marijuana doctors in Pennsylvania online, especially for the first time. It's not a big deal. However, before scheduling your appointment, make sure you are prepared.
Here's how to talk to medical marijuana doctors in Pennsylvania:
Connect to the doctor using your digital device.
Talk about the symptoms and health problems you are experiencing.
Be confident, honest, and transparent about your reasons for getting recommendations.
Share the record of your experience with different marijuana and CBD products, dosages, etc. (if any).
Ask more questions regarding your condition and marijuana.
Be respectful of the doctor's opinions.
Ask relevant questions.
If you are talking to a doctor for the first time, you can ease the situation and make the most of your consultation by asking relevant questions. Here are some examples:
Can you help me with some studies showing evidence related to my condition and marijuana?
What are the benefits of getting a doctor's recommendation?
Where can I get more information about medical cannabis?
How can I consume medical marijuana in Pennsylvania?
Are there any activities I should avoid after using marijuana?
Should I mix marijuana with my medications?
Should I stop using marijuana before donating blood?
What are the potential side-effects of using marijuana?
Patients with recs from medical marijuana doctors in Pennsylvania can possess a 30-day supply of marijuana. By law, the herb can be dispensed in the following forms-
Pills
Oils
Topicals, including gels, creams or ointments
Tincture
Liquid
In the state, smoking is prohibited. But, you can buy and use dried flowers in the state to vape it privately.