Ohio legalized the use of medical marijuana on June 8, 2016, and became the 25th state of the USA to do so. This was a good decision on the part of the government as it gave the patients a chance to make use of all the therapeutic benefits of medical marijuana solutions. The industry of medical cannabis has only grown in the last few years as the patients have enthusiastically adopted marijuana as a form of effective treatment.
However, to become a recognized patient of medical marijuana, it is imperative for the patient to have some form of identity authentication. This is why getting a medical marijuana card in Ohio became a mandate for the patients.
What is the history of medical marijuana in Ohio like? Are the steps to getting an MMJ card any cumbersome? What are the debilitating medical health conditions that qualify a patient for the MMJ cards? Are there any benefits a medical marijuana card Ohio holder enjoys? Let's find out the answers to all such popular queries below.
History of Medical Marijuana in Ohio
The history of marijuana in the US state of Ohio has been rather impressive. It began back in 1975 when the government decriminalized possession of marijuana for up to 100 gms. Under Ohio law, the possession of marijuana then became a minor misdemeanor which was liable for a maximum fine of 150$.
The legalization of medical marijuana, however, was signed into law by John Kasich with the House Bill 523, during the month of June 2016. It took a little longer for the authorities to facilitate the rules regarding this law. But with the introduction of the services of medical marijuana cards in Ohio, it became much easier.
The industry of marijuana has flourished with such laws. With new plans to legalize recreational marijuana too, Ohio is moving in the right direction. State officials are ready to introduce a bill regarding this in the upcoming 2022 elections.
Did You Know: A first of a kind, 180-page bill was introduced by Ohio Lawmakers on July 30, 2021, to legalize possession of up to five ounces of cannabis for adults 21 and older and allow them to cultivate up to 12 plants for personal use.
How to Get a Medical Marijuana Card in Ohio?
The first thing that a person needs to do before applying for a medical marijuana card in Ohio is finding a good online platform. Once that is done by the patient, the process of getting a medical marijuana card in Ohio becomes pretty easy. They need to simply follow the below-given steps to get their MMJ cards online.
Fill a Pre-Qualification Form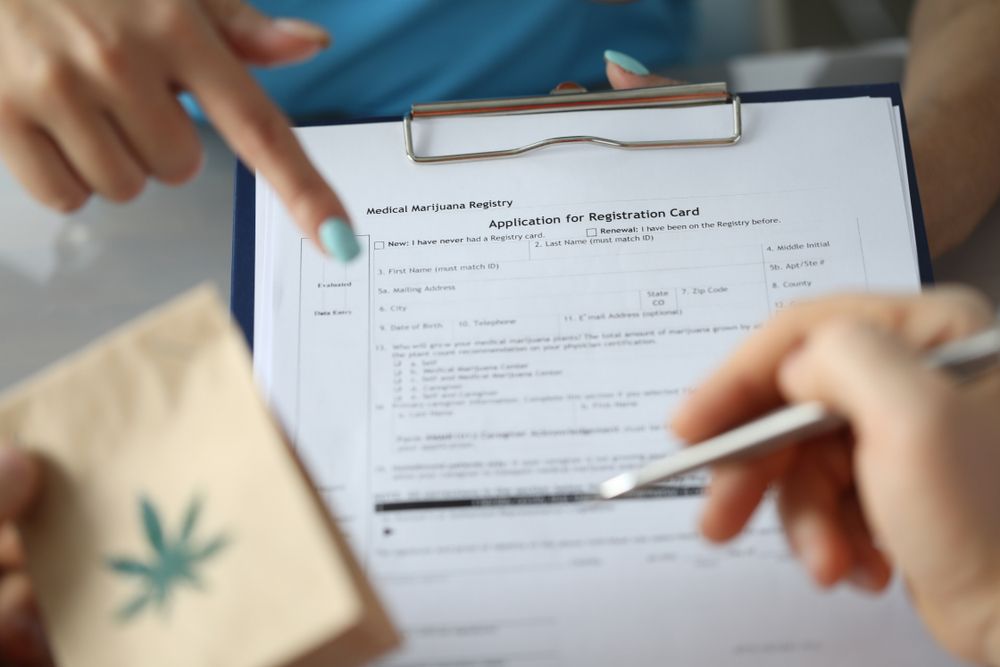 Filling a pre-qualification form is the first step in the procedure of getting a medical marijuana card Ohio. In this form, each personal and medical detail needs to be carefully submitted by the patient. Only reliable platforms which have HIPAA compliant telemedicine portals should be trusted with getting your medical marijuana card.
Have an Online Consultation With the Doctors
After the submission of the form, the person would need to hop on a call with valid medical marijuana doctors of the state. Here, they will share their health concerns and then ask the doctor if they are eligible for the MMJ card. Ohio authorizes MMJ cards for patients suffering from a list of qualifying health conditions only. The patients will have to specify the disorder they're suffering from in this call. The doctor will then evaluate the condition and approve the usage of medical marijuana for the patient to treat that specific disorder.
Receive Your Recommendation
The last step of the process is probably the easiest. Here the patients only have to receive their medical marijuana recommendations. They can get it on their email IDs or in the form of a hard copy on their doorsteps. This recommendation will then need to be submitted along with an application to the state authorities. It is from here that the patient will finally receive their medical marijuana cards in a given time.
What Are the Qualifying Health Conditions for MMJ Cards in Ohio?
Ohio has a list of health conditions that qualify a patient for the treatment of medical marijuana. Let us see what they are:
Cachexia
Crohn's Disease
Hepatitis C
Multiple Sclerosis
Inflammatory Bowel Disease
Sickle cell Anemia
Huntington's Disease
Terminal Illness
Spinal Cord Disease or Injury
Tourette's Syndrome
Traumatic Brain Injury
Ulcerative Colitis
Some new disorders and diseases keep getting added to this list every few years. With the advent of new diseases and disorders, the infinite medicinal possibilities of cannabis are being utilized optimally. More research studies also reflect the same, which is good news for this naturally occurring component as opposed to the lab-created allopathic medications.
What Are the Documents Required to Apply for an MMJ Card in Ohio?
Now, you are aware of the steps you need to follow to get your medical marijuana card in Ohio. it now becomes important for you to also be aware of the documents that are required for the same. A patient needs to have the following documents before applying for an MMJ card in Ohio.
An Identity Proof Document like a Driver's license or Ohio-issued identification card
A Valid Medical Marijuana Doctor's recommendation which is dated within 30 days of the application
Recently clicked colored photographs
Proof of residency in the form of a utility bill or property deed (in case the patient does not have a state-issued ID card)
Why Should You Apply for a Medical Marijuana Card Ohio?
A person should always be aware of the 'why' of everything they do. Since getting a medical marijuana card is being emphasized so much, why should a person apply for it?
Patients should always apply for a medical marijuana card in Ohio due to the simple reason that recreational use of marijuana is illegal in the state. If a person does not have an Ohio MMJ card in possession, they cannot avail of the multiple treatment options of any of the medical marijuana medicines. Hence it is not an option for them but a necessity.
Without an MMJ card, the person can neither possess nor use marijuana to treat any of the health symptoms inside their body. For a citizen of the state to make use of the 420 solutions, the first step has to be in the way of applying for their medical marijuana card. It is not the safest way of consuming marijuana, it is actually the only way of consuming marijuana legally within the boundaries of Ohio. Apart from just fulfilling the basic legality criteria, the MMJ card also offers some important benefits.
What Are the Benefits of a Medical Marijuana Card?
Are there some benefits to being an MMJ card holder in Ohio? Let's find out.
Effective Treatment Option
As marijuana is a relatively new medicinal drug on the block, everyone wants to give it a try to find out whether it will successfully treat their health condition or not. For many patients, however, marijuana is their only hope. This happens when no other medication seems to be working for them. To then reduce the pain that deeply affects them, they cling to the only other form of therapy that works, that of medical marijuana.
To make use of the 420 solutions in a state like Ohio, it is compulsory for the person to be in possession of an MMJ card. Hence the foremost benefit that an MMJ card offers the patients is the option to avail of an alternative form of therapy of medical marijuana as opposed to the age-old, regressive medicines.
Legal Protection
As mentioned before, a patient can make use of marijuana solutions only when they have an MMJ card. There are no two ways about this because recreational use of marijuana in Ohio is illegal. This means it is absolutely mandatory for a patient to have an MMJ card and recommendation which identifies them as a medical marijuana patient who is treating a specific qualifying health disorder in the state of Ohio.
Access to All Medical Dispensaries
A medical marijuana card is the same to a medical dispensary as a ticket is to a movie hall. A person will be identified as a patient of medical marijuana and then only given the opportunity of buying products from the medical dispensaries in the state. It is important to note here that the products that these dispensaries boast of are quite potent and varied. The patient can choose the one they think would work best to treat their debilitating conditions.
Discounts and Tax Benefits
Another major benefit that a medical marijuana card in Ohio offers is the reduction of taxes imposed on each product. This can be done through various schemes like special discounts or such. Tax benefits for a patient are quite helpful in a number of ways that are simple yet effective. The card makes the prices of the potent and sometimes larger amounts of marijuana affordable for them.
The difference is more noticeable in the states where recreational marijuana is legal like California. However, since Ohio is on its way to getting the legalization law for recreational purposes sometime soon, this benefit will make the patients smile.
Access to Highly Potent Products
With an MMj Card, a patient has the opportunity to buy highly potent marijuana products. These products will help in recovering from certain severe health disorders or diseases. Some patients suffer from serious health problems like cancer or epilepsy. This makes it important for them to use cannabis for a longer duration with a strong effect on them. The products in the medical dispensaries then offer the patients the option to get highly potent products. These would work effectively in ridding their bodies of all the severe symptoms of major diseases.
Patients Under 21 Can Also Use Medical Marijuana
A patient's age does not play a deciding role when it comes to getting a medical marijuana card. This is because a patient may be suffering from extreme and quite serious health conditions. The health condition can warrant the use of marijuana even for patients who are under the age of 21.
The age limit of 18 and above, for the use of medical marijuana, has been authorized for all patients in Ohio. This is a major benefit because each patient should have the right to make use of these solutions and age shouldn't become a barrier in treating the severe issues afflicting a person.
Bottom Line
The importance of medical marijuana cards has been specified and highlighted adequately throughout the guide. It would only be smart for the patient to apply for it asap. It is not a matter of choice right now but is compulsory.
As Ohio is becoming increasingly familiar with medical marijuana, chances are that it might legalize recreational marijuana in the future. Even if recreational marijuana is legalized, the bare benefits of being in possession of medical marijuana cards cannot be overlooked.
In conclusion, all that can be suggested here to a patient of medical marijuana is that they must always apply for an MMJ card to make legal use of any of the marijuana products. So if you are a citizen of Ohio wanting to make use of medical marijuana, apply for your card today. If you're already a registered patient you need to be vigilant about the dates of your MMJ card renewals.