The state of Illinois legalized medical marijuana in 1996 with the Compassionate Use Medical Cannabis Pilot Program Act. This established the Medical Cannabis Patient Program (MCPP) in the state which allows all patients with a debilitating medical condition approved by the state and a valid Medical Marijuana Card to legally buy and use cannabis in Illinois.
If you think medical cannabis can be your health solution, here's a detailed guide on how to get a medical marijuana card in the state and the important state laws that all patients must be familiar with.
How to Get an Illinois Medical Marijuana Card?
You can get a medical marijuana card in Illinois by following these steps:
Visit your physician.
Complete an evaluation.
Receive your written recommendation.
Use your recommendation to register with the Illinois medical cannabis patient program.
Here's a walk-through of the steps in detail.
Step 1: Get a Recommendation From Certified Doctor
In the state of Illinois, a medical marijuana card is only issued to patients who meet all the requirements of the state. The MCPP of Illinois approves a list of qualifying conditions (discussed later) that every patient must fulfill in order to qualify for a medical marijuana card. A doctor with a license to practice medicine in Illinois is authorized to assess a patient as per the requirements of the state and write a recommendation accordingly.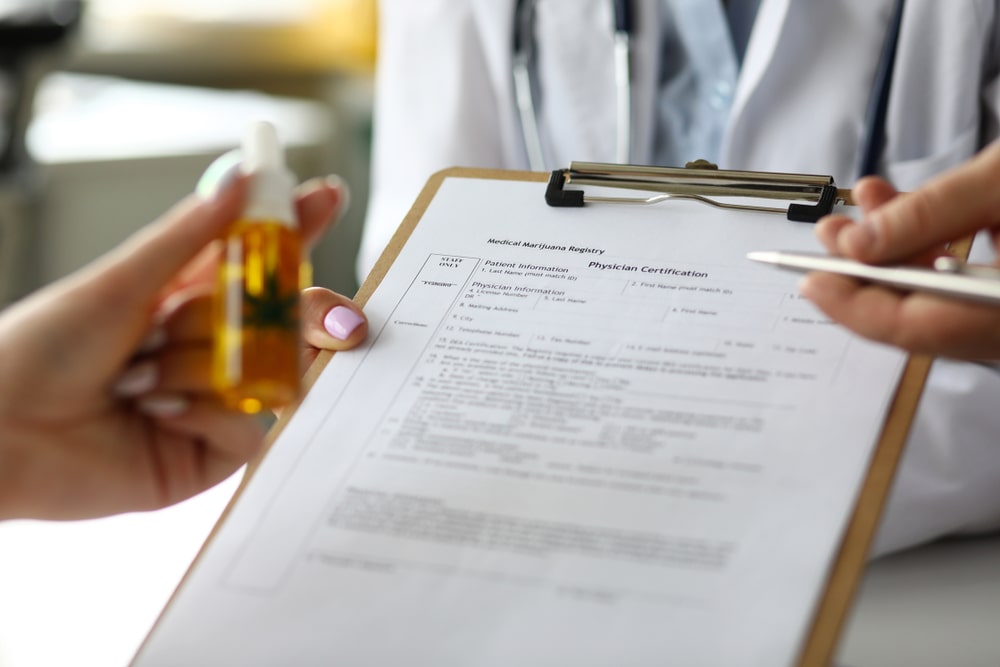 To get a medical marijuana card in Illinois, you must get yourself evaluated by a physician in person and receive a written recommendation. A consultation is necessary for the doctor to assess you and for a patient to ask questions and clear all lingering doubts. A certified physician must:
Have a bonafide relationship with the qualifying patient.
Be responsible for the ongoing treatment of the patient.
Complete a full assessment of the patient in person.
Provide a certification that the patient is under doctor's care.
After a complete in-person assessment, the licensed doctor will fill a Health Care Professional (HCP) Certification form which can then be used to complete the next step.
Step 2: Register With the Illinois Department of Public Health
After receiving the written recommendation from your physician, you need to register with the Illinois Department of Public Health (IDPH). A physician's written certification is valid for a period of 90 days only. You must register with the department within the 90 day period.
The physician can submit the form with the department on your behalf or you can visit the website and fill in the application form yourself. The process is simple:
Begin by visiting the Illinois Cannabis Tracking System. Sign in and choose the MCPP Patient Registration to create an account.
Fill in the details in the application form and attach a digital copy of all the necessary documents.
Submit online or mail the documents to the IDPH office.
All online applications are approved within 1-2 business days. The applicant will receive the temporary registry card for use until the permanent card arrives. It can take up to 90 days for a mailed application to be approved.
Did You Know?
There are an estimated 154,965 registered medical cannabis patients in Illinois.
What Documents Are Required to Register for an Illinois Medical Marijuana Card?
You must submit a PDF or JPEG file of the following documents when registering for a medical marijuana card in Illinois: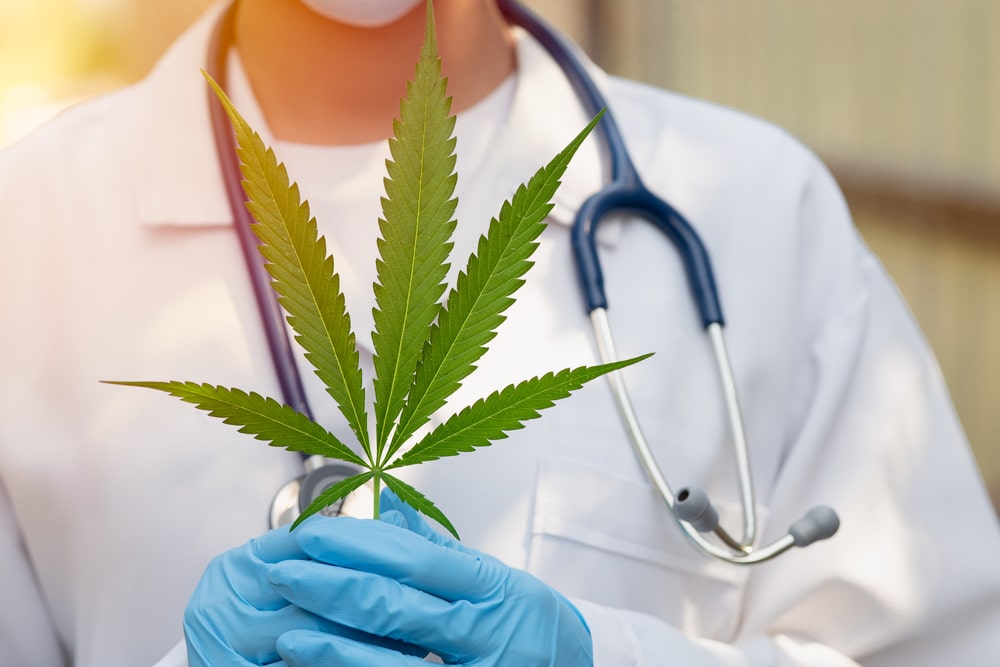 A copy of the doctor's recommendation.
Proof of the Social Security Disability Income and Supplemental Security Income (if applicable).
A DD-214 for veterans (if applicable).
A recent 2" x 2" colored photograph with white background.
A copy of your fingerprint receipt is taken within 30 days of the application.
A color photocopy of a state-issued ID (driver's license, state ID, passport.)
Proof of residency.
Can Minors Apply for an Illinois Medical Marijuana Card?
Yes, minors can apply for a medical marijuana card in Illinois as long as they are 18 years or older, qualified for a medical card, and have an adult caregiver. Minors must also have a certification as well as a reviewing certification from a healthcare professional.
The adult caregiver can apply on behalf of the minor on the IDPH website. There is a separate application form for minors. After filling in the form and attaching the necessary details, the application can be submitted online or by mail to the IDPH office. The patient can apply for a one-year, two-year, or three-year medical cannabis registry card in Illinois.
You must also fill in the MCPP patient-caregiver form and specify that the patient is a minor and whether you are a legal guardian or not. Minors can apply for one caregiver without any charge.
How Long Is an Illinois Medical Marijuana Card Valid?
The validity of an Illinois Medical Marijuana Card depends on whether you picked the 1 year, 2 years, or 3 years card. The expiration date of the card will be calculated starting from the date of issuance.
You must get a renewal after the expiration to continue using medical cannabis in the state and enjoy the exclusive advantages that follow.
How Much Is an Illinois Medical Marijuana Card?
| Duration | 1 Year | 2 Year | 3 Year |
| --- | --- | --- | --- |
| Regular Patient | $50 | $100 | $125 |
| Minor Patient | $50 | $100 | $125 |
| Reduced Cost for Patients only* | $25 | $50 | $75 |
| Caregiver | $25 | $50 | $75 |
The application fee is non-refundable.
*Patients enrolled under the Federal Social Security Disability Income (SSDI), Supplemental Security Income (SSI), disability programs, and Veterans are eligible to get a medical marijuana card in Illinois at a reduced cost.
Application fees for patients and caregivers must be submitted separately.
The price of a medical marijuana recommendation will depend on the health care provider who evaluated you.
Who Qualifies for an Illinois Medical Marijuana Card?
A patient qualifies for an Illinois medical marijuana card if they fulfill the following requirements of the state:
A patient is over the age of 18 years.
The patient is a resident of the state.
The patient is suffering from one of the many medical conditions approved by the IDPH.
A patient is not convicted for any excluded offense.
Must not have a commercial driver's license or a school bus permit.
The Illinois Department of Public Health has an exhaustive list of medical conditions approved for a medical marijuana card. The list is as follows:
Autism
Agitation of Alzheimer's disease
HIV/AIDS
ALS
PTSD
Anorexia nervosa
Arnold-Chiari malformation
Cancer
Cachexia/wasting syndrome
Causalgia
Chronic inflammatory demyelinating polyneuropathy
Chronic pain
Migraines
Glaucoma
Hepatitis C
Lupus
Dystonia
Ehlers-Danlos syndrome
Fibrous Dysplasia
Hydrocephalus
Hydromyelia
Interstitial cystitis
Irritable bowel syndrome
Multiple Sclerosis
Muscular Dystrophy
Myasthenia Gravis
Myoclonus
Neurofibromatosis
Neuropathy
Parkinson's disease
Crohn's disease
Neuro-Bechet's autoimmune disease
Reflex sympathetic dystrophy
Residual limb pain
Osteoarthritis
Rheumatoid arthritis
Seizures (including those characteristics of Epilepsy)
Severe fibromyalgia
Sjogren's syndrome
Tourette syndrome
Post-Concussion Syndrome
Superior canal dehiscence syndrome
CRPS (complex regional pain syndrome Type II)
Nail-patella syndrome
Polycystic kidney disease (PKD)
Spinal cord disease (including but not limited to arachnoiditis)
Spinal cord injury is damage to the nervous tissue of the spinal cord with objective neurological indication of intractable spasticity
Spinocerebellar ataxia
Syringomyelia
Tarlov cysts
Traumatic brain injury
Ulcerative colitis
The following list of requirements apply to caregivers registering with the Illinois Department of Health:
A patient can have a maximum of 3 caregivers.
The caregiver of a minor must be an adult and one of the 3 caregivers should be a biological parent or legal guardian.
The caregiver must take the responsibility to buy and administer medical cannabis to the patient in a safe manner.
A caregiver must not be convicted of any excluded offenses.
A caregiver cannot assist more than 1 patient.
Benefits of Having a Illinois Medical Marijuana Card
| Benefits | Recreational | Medical |
| --- | --- | --- |
| Access to Quality Products | State restrictions do not allow access to all cannabis products. | Have access to all high-quality and tested products. |
| Money Savings | Have to pay taxes based on the level of THC i.e. 6.25% State Retailers' Occupation Tax. | Money savings. Pay 1% State Retailers' Occupation Tax only. |
| Grow Cannabis | Cannot grow their own cannabis. | Can grow up to 5 cannabis plants up to 5 inches tall at home. |
| High Possession Limit | 1 ounce of cannabis; 5 grams of concentrate; 500mg of THC in edibles. | 2.5 ounces of cannabis per 14 days or as mentioned in a written statement of the doctor. |
| Priority | Recreational consumers are not the top priority of the dispensaries. | Patients with a medical marijuana card are prioritized in a line or in case of short supply. |
Overview of the Medical Marijuana Laws in Illinois
Apart from understanding the basic terms of medical cannabis, all registered medical marijuana patients must buy, use and grow cannabis in the state as per the medical marijuana laws. Here's an overview of some of the important cannabis laws in Illinois that you must know.
How Much Medical Cannabis Can I Purchase and Possess in Illinois?
You can possess 2.5 ounces of medical cannabis and 5 grams of concentrates in Illinois. It's necessary for all patients to apply for a waiver to be able to possess more than the legal limit.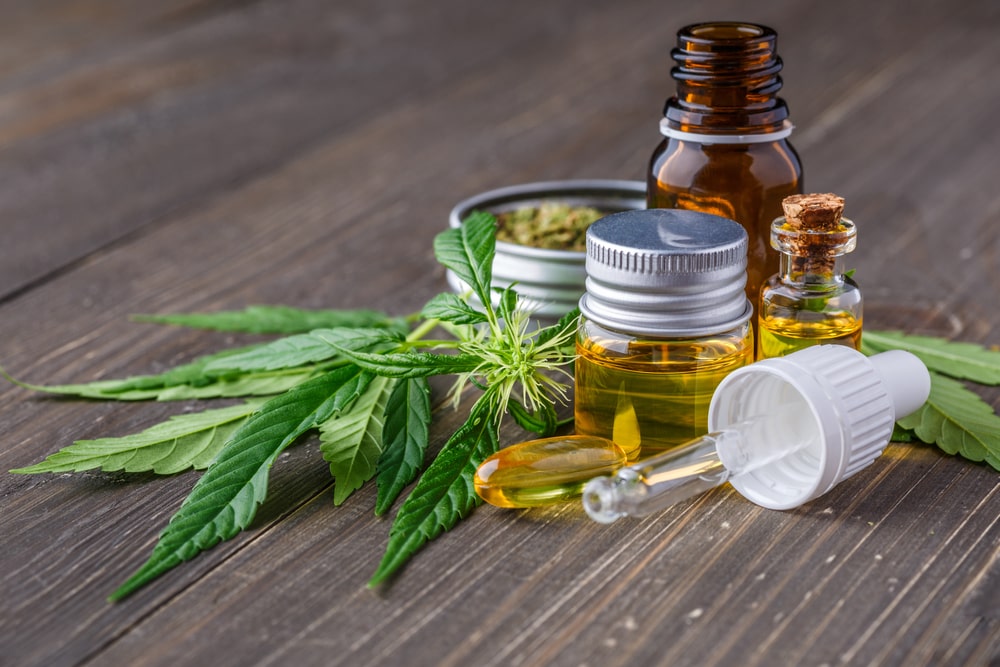 The purchase limit is set to a period of 14 days. Medical patients can buy 2.5 ounces of cannabis after every 14 days only.
Can I Grow Cannabis in Illinois With a Medical Marijuana Card?
Yes, you can grow cannabis in Illinois with a medical marijuana card. You must have a valid medical marijuana card in order to grow a maximum of 5 plants that are 5 inches tall at a time.
Growing cannabis at home in the state of Illinois must be done keeping the following points in mind:
The cannabis plants must be locked and in an enclosed space.
They must be out of sight of the public.
Must not be accessible to minors.
If you are not the owner of the property, you must have the permission of the owner.
Does Illinois Follow Medical Marijuana Reciprocity?
The state of Illinois does not have a dedicated medical marijuana reciprocity program. However, visiting patients can buy and possess 15 g of cannabis flower, 250mg of edibles, and 2.5 g of concentrates at Illinois dispensaries using their out-of-state medical cards.
Registered MMJ patients of the state of Illinois can also use their cards in other states that follow medical marijuana reciprocity. However, the restrictions will be as per the laws of the state the patient is visiting. Make sure to familiarize yourself with the MMJ laws of different US states to avoid legal issues.
Where Can I Buy Medical Marijuana in Illinois?
You can buy medical marijuana in Illinois at any state registered dispensary. You can use your phone to find a dispensary near you before leaving your home.
Use your medical marijuana card at the dispensary to purchase the product you need at a lower price than recreational consumers.