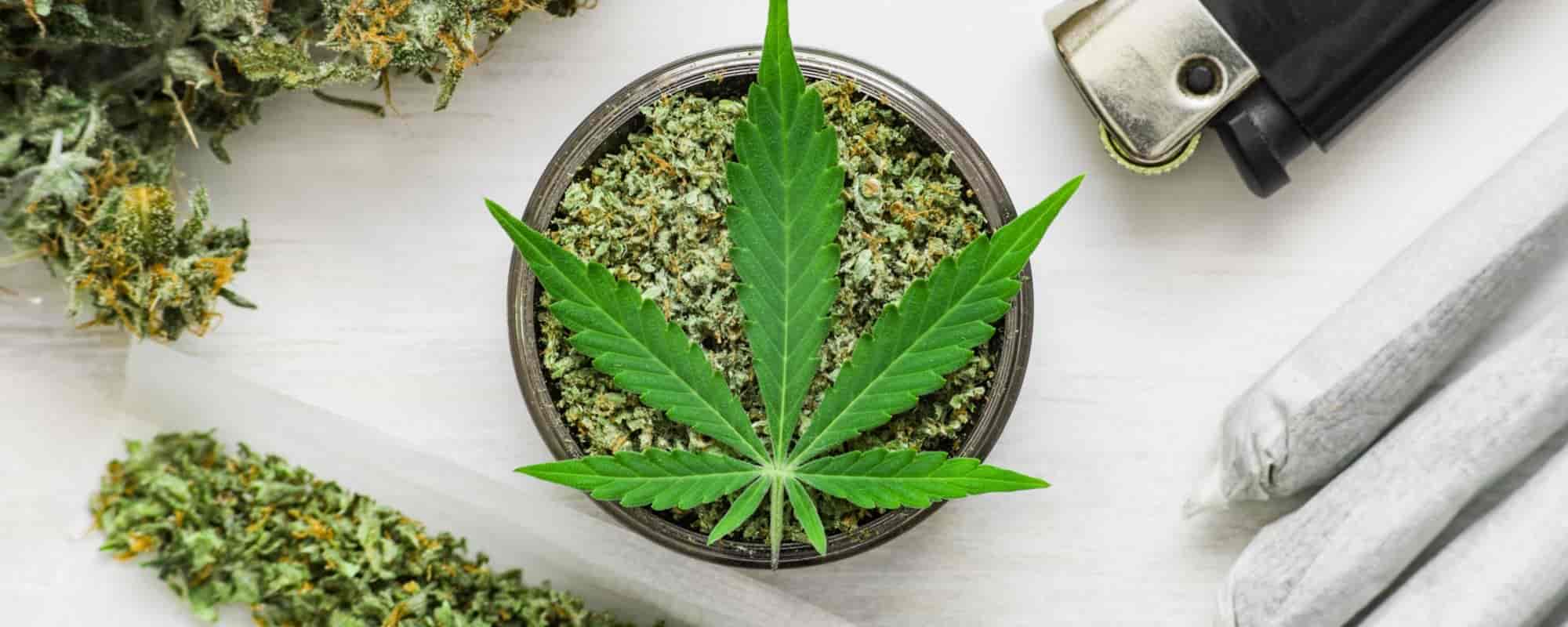 How to Not Miss Out on First Time Patient Dispensary Deals in 2019
- May 16, 2019
Have you just gotten your first medical marijuana card? Do you want to make sure that you never miss out on first time patient dispensary deals?
Nothing can be more exciting than shopping at a cannabis dispensary. It's just like being in front of the wardrobe and Narnia lies just behind. But then creeps in this other feeling of confusion, we were not expecting that.
Were we now?
The marijuana industry is booming across the United States of America. This wave of increase in consumption has been fueled by the spurt of legalization taking place on a state level. More people are turning towards cannabis to manage their chronic conditions. It is becoming an increasingly competitive market out there for dispensaries.
Let's learn how to ensure that your first experience to a dispensary is pleasant.  This is also a sneak peak into what a  dispensary can do to assure that a first-time buyer becomes a returning customer for a long, long time?
How To Prepare For Your First Visit
So let's begin our nice exhaustive lesson. First, understand and memorize this – 'Dispensaries are more than just sellers of Cannabis'. There are hundreds and hundreds of products on the shelf of a dispensary.
Your expert within the dispensary is cheekily called a' Budtender'. They are going to be your navigator through this experience and are the right knowledge bank to answer all your queries.
Realize What Matters to You
If you are going to be visiting a dispensary, do your homework. Don't let the first time dispensary deals be the only thing on your mind. Understand what is it that you are looking for.
Strains come with varying potency and then there is the case of understanding whether its price, product range and ambiance are exactly what you need.
If you walk in unprepared, chances are you are going to have a very confusing experience and might even walk out buying the opposite of what you need.
What Is The Effect You Are Looking For?
Your budtender might be the most knowledgeable person in the room but even they are human. You need to tell them exactly what you want cannabis to do for you. This can help them find you the right type of product. The selection will traditionally include varieties of flowers, concentrates, and edibles.
Ask as many questions as you can from your budtender. It is after all your money and you need to ensure that you get the best first time patient dispensary deals.
Preference of Consumption
Smoking is no longer the only form of consumption that exists. A big pool of cannabis consumers are shifting to edibles and tinctures.Dispensaries are stocked to the brim with different forms of products.
Tincture, pills, drinks, vape pens, flowers, concentrates, edibles, topical ointments and all this is still scratching the surface. You name it and they have it.
If you are trying to get some flowers then you can always smell and feel the bud that you are going to buy. Some dispensaries like The Higher Path Collective can have you try out several smokable products before buying them. I reiterate ASK as many questions as you want to.
Understand your High
This is where the why of your situation comes into play. Why are you about to consume cannabis, is it for recreational use or due to a specific medical issue? The best dispensary for first-time users will always, in detail, provide the differentiation that exists between indica, sativa and hybrid products. So have a long conversation with your budtender before deciding what you want.
Now that we have got the high part out of the way, let's have a look at some basic etiquette you need to follow when you go to a dispensary.
Selecting a dispensary might seem like a daunting task. But it doesn't have to be so. You can look online to figure out the closest dispensary to you is.
Also don't forget, Yelp is your best friend! Dig deeper into reviews and find a decent collective nearby. A better methodology, however, would be to get in touch with a friend who uses and ask them to tag along for the first visit.
Don't Forget…
Once you have picked the dispensary that you want to head to make sure you carry everything in the list given below.
A Valid I.D.
A photo I.D. i.e. a driver's license, passport or any other government-issued ID is a mainstay. Ensure that the ID you carry is valid and not expired, as that is the  major reason for consumers getting turned away from dispensaries.
All states usually have the same age for consumption of legal cannabis and that is 21, so ensure that every person who walks into the store with you is 21 even if they aren't purchasing otherwise you might not be entertained.
Cash Rules!
Dispensaries majorly deal in cash transactions. If you are short you can use their on-site ATMs but those come with hefty fees. Debit cards might be accepted but a majority of banks flag transactions done at a dispensary as potential fraud.
So, the choice is yours. Fraud or fine, our suggestion would be to carry cash just to be safe.
Patient like a Jedi!
Patient, must you be. The lines at these places can be excruciatingly long especially if it is a holiday or weekend. Half the fun of a dispensary is the chat you have with the budtender.
Understand that the other customers would also like to do the same and then enjoy when it is your time. The whole experience will heighten your high.
General Etiquette
Try to stay off social media when you enter a dispensary even though you might have a strong urge to tell the world where you're getting all that amazing stuff from. Don't do that. Not only is it rude but you're also violating the privacy of other customers in the store.
Also when chatting with budtenders try to be as specific as you can about your needs. Irrespective of how much research you manage to carry out it is only when you actually manage to have a chat with the budtender that you get what you need.
First Time Patient Dispensary Deals You Can't Miss Out on This Festive Season
We have covered what you need to do before and during your dispensary visit, now to the juicy stuff. Once you are at a dispensary and have got your stuff, there are multiple first-time patient dispensary deals that you might be able to avail.
Goodie Bag
Many dispensaries hand out welcome gift bags as every dispensary hopes to have a returning customer. These dispensary goodie bags usually hold a variety of marijuana strains, accessories, and products that are available at the dispensary.
This showcases a new customer what they can expect from the dispensary in case of flowers. edibles, clothes, pipes or vape pens.
Reduced Prices
First-time patients can enjoy a 10% to 50% off their entire purchase. Some dispensaries also offer top-shelf discounts. A cap on the top shelf cannabis flower gives new customers a taste of the best at nominal rates. Now that sounds like a good deal you don't want to miss! Bluebird gives a 10% discount to all their new members.
Daily Specials
Marijuana Monday, Toke Up Tuesday, Thrifty Thursday… the happy hours never end. Dispensaries never run out of awesome daily deals designed for specific days of the week. This way even if they don't have a first-timers discount. You do manage to walk away with a fair deal on your purchases.
In case your jargon isn't all that strong on these terms we'll breakdown for you.
A typical dispensary gives out daily deals like:
Medible Monday usually offers edibles at a discounted rate.
Toke up Tuesday markdowns on pre-rolls and top-shelf flowers.
Waxy Wednesday is a discount on topical ointments.
Thrifty Thursday gives deals on older products that have been lying on the shelf for too long.
You might even get a surprise on your birthday! A good way is to subscribe to your dispensary's newsletter/messages or emails just so you can figure out the best time to head there. Here is an infographic to sort it out in a nutshell.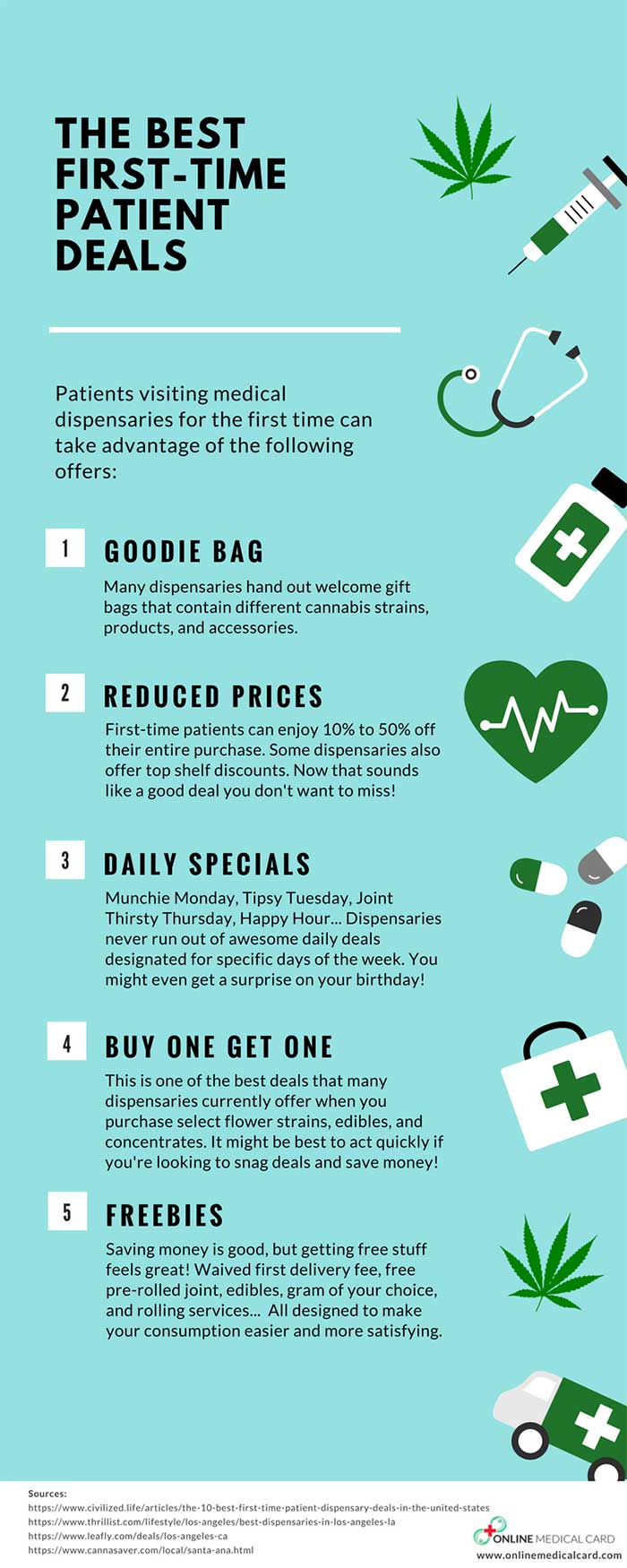 Looking for Something More?
This is one of the best deals that many dispensaries currently offer when you purchase select flower strains, edibles, and concentrates. There are also offers where if you buy a complete ounce the last 1/4 ounce free. If that is not a good deal, we aren't very sure what is.
Don't forget the freebies! Saving money is good, but getting free stuff feels great! Waived first delivery fee, free pre-rolled joint, edibles, a gram of your favorite bud, and rolling services. All designed to make your consumption easier and more satisfying. After all who doesn't enjoy a free gift.
Bottom line is that your first time at a dispensary can get a bit overwhelming sometimes. You might actually get so bonked out that you don't even remember what you end up purchasing.  And this guide is precisely what you need before setting foot in a collective.
You can now breathe easy, research for reviews and plan ahead on how you want your experience to be. As for first-time patient dispensary deals, don't worry you will always find a surprise around the corner.