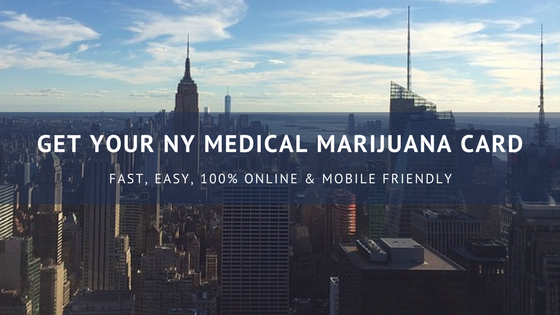 How To Get a Medical Marijuana Card in New York
- May 06, 2017
If you're a New Yorker reading this article, you might be wondering how you can become a legal patient. In 2014, the State of New York approved Assembly Bill 6357 which made medical marijuana legal under a state-regulated program. But unlike in California, they have stricter regulations.
How do you get a medical recommendation?
Truth is, it can be hard to find a marijuana doctor. Practitioners in New York need to obtain a special certification to issue medical recommendations, so access to compassionate care is limited. And that's where we come in.
We have expanded our top-rated telemedicine portal across New York. On March 13, 2015, the State of New York passed Senate Bill 2405, "The Telehealth Amendment Act" allowing health care professionals to provide online medical evaluations. Several illnesses can make you eligible for medical marijuana including:
Amyotrophic Lateral Sclerosis (ALS)
Cancer
Chronic pain
Epilepsy
HIV/AIDS
Huntington's Disease
Inflammatory bowel disease
Parkinson's Disease
Multiple Sclerosis
Neuropathies
Spinal cord damage
Here's the most convenient way to get your medical marijuana recommendation
Log on to www.nymedicalcard.com and have your medical records ready.  We need a recent diagnosis (within the last 12 months) and proof that you tried another intervention besides medical marijuana for 3 months.
Once approved, you will receive an email with your recommendation.
Register with the New York Medical Marijuana Card Program. The card will be mailed to you and you're all set to purchase cannabis!
Patient Possession Limits
Per New York law, the non-smokable preparations allowed for legal consumption are edibles, oils for vaporizing, inhalers, or capsules.
Patients are permitted to have a 30-day supply of approved medical marijuana forms at state-monitored dispensaries.
Each certified patient may have up to two caregivers, and each caregiver may serve no more than five certified patients.
Confused about the process? Book an eVisit today to see if your medical condition will qualify.